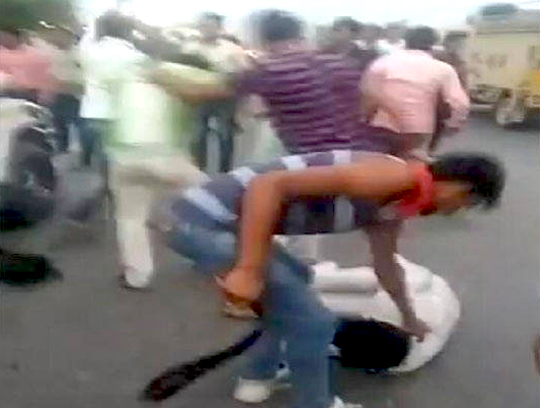 Alwar: In a video that is being widely circulated, a mob assaults men who were transporting cows in Rajasthan's Alwar. One man is seen slumped on the road, unconscious. Pehlu Khan, 55, died in hospital yesterday, two days after the brutal beating. 10 people have been arrested, say the police.
Pehlu Khan, who was from Haryana, and his four associates were attacked even after they reportedly produced documents to show they had bought the cows from a "Pashu Mela" or livestock fair in Jaipur. They were dragged out of their pick-up truck.
In the video apparently filmed by locals, the mob is seen chasing and beating up the group in the middle of the highway. Pehlu Khan's companions are still in hospital.
The self-appointed cow vigilantes appeared to have a free run; a police officer seems to defend them and blame the victims.
"Police got information that some people are smuggling cows from Jaipur and are headed to Delhi. Behrod police caught some trucks and some trucks escaped, these trucks were forced stopped by public and the drivers were beaten by the public," said a senior police officer, Paras Jain, claiming that 10 people have been arrested for murder.
One local police officer, Ramesh Chand Sinsinwar, has been quoted in reports as saying that the cow vigilantes are linked to rightwing hardliners and had stopped several vehicles on Saturday, "to check for cow smugglers".
Last month, a mob attacked a hotel in Jaipur, alleging that it was selling beef. The staff was thrashed in the presence of policemen, who allegedly didn't stop them.
(Agencies)