With the state government showing no interest in implementing the Kannada flag proposal — one of the pet projects of former CM Siddaramaiah — it is likely to remain only on paper this Karnataka Rajyotsava on November 1. In June 2017, an order was issued by the Kannada and Culture department to form a committee to look into the new design of the flag for Karnataka and also legalities of the state having its own flag.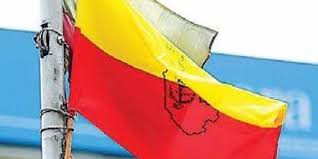 Siddaramaiah had held several meetings with Kannada organisations, literary personalities, legal experts and other stakeholders for suggestions. The flag idea was approved by the State cabinet, and in March 2018, the then CM Siddaramaiah had unveiled it.
Kannada Development Authority Chairman S G Siddaramaiah told Express that former CM Siddaramaiah had sent the proposal for the flag to the Union government for final approval. "We sent it in March, but they are yet to approve it,'' he said. Kannada and Culture Minister Jayamala said the proposal was likely to get approval soon, but did not commit to a date.
Sources from Congress said the coalition government is currently facing many challenges and hence less bothered about it. "There are many other issues, including farm loan waiver, flood and drought,'' a source said.
In 2012, D V Sadananda Gowda had said that the bi-colour Kannada flag would be hoisted on all government buildings next to the national flag on November 1. A circular was also issued. However, it was challenged in the High Court, forcing them to withdraw the notification. When Jagadish Shettar was CM, his government gave an affidavit that there was no official state flag.
PTI