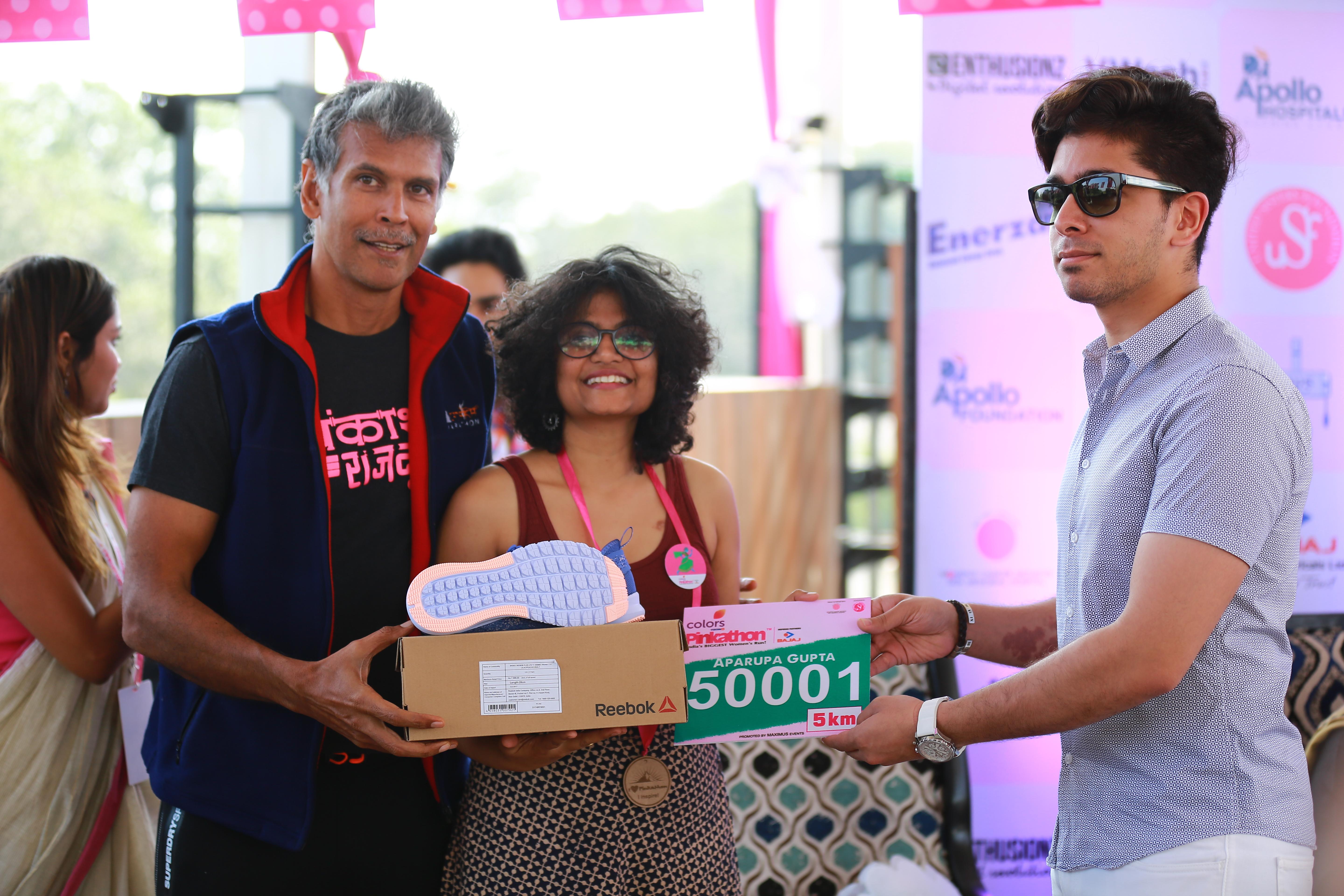 The 6th edition of Colors Pinkathon Bengaluru 2018, inspiring partners Bajaj Electricals, India's biggest women's run is all set to be held on Sun, 18th Feb, 2018 at Kanteerva Grounds, Bengaluru. online registrations for the multi – category run are open at www.pinkathon.in / Mumbai for the Vwash plus 3 km, 5 km & 10 km run and for the 21 km distance drop a mail on info@pinkathon.in.
Colors Pinkathon, empowering Indian women, India's biggest women's run to encourage & promote fitness & health among women and create awareness for breast cancer and other issues relating to women's health is supported by the United Sisters foundation & promoted by Maximus Mice & Media Solutions.
Super model, actor, Ultraman & Pinkathon founder Milind Soman formally announced the launch of the 6th edition of Colors Pinkathon Bengaluru at a press conference held at The Hub, Bengaluru.
By the way The Hub Bengaluru is a shared space ecosystem unlike anything ever seen. They provide beautiful spaces to live, work & play (events) encouraging communities!
Present at the press conference were eminent dignitaries like 101 year old Mann Kaur, an Indian track & field athlete, she holds the world record in the over 100 years old, Anju Maudgal Kadam co – founder 100 saree pact, Dr. Monika Pansari – consultant Onco Surgeon (Apollo Hospitals), Bhumika Patel accomplished marathoner, featured as gamechangers 2017 in US Magazine's elite list of 21 women who are transforming the world along with 3 Colors Pinkathon Bengaluru mascots who expressed their wholehearted support for the noble cause. committed to encourage progress of women and move forward in life, India's leading entertainment channel, Colors has extended full partnership towards this cause by partaking in spreading the message of "well – being of women" through this initiative.
A crusader for women empowerment, Raj Nayak, COO – Viacom18 averred, "Initiatives like Pinkathon are a great way to boost the confidence of women & strengthen the belief that women can do wonders! Colors Pinkathon not only works for the well – being of women but also encourages meaningful participation of women in all aspects of life. Colors has always lauded the contribution of women in a big way, be it at workplace or through the content it showcases. With such associations we envisage a better future for our women who nurture & shape us."
Expressing delight on the launch of the 6th edition of Colors Pinkathon Bengaluru 2018, inspiring partners Bajaj Electricals & founder Milind Soman averred, "We are very excited to bring Colors Pinkathon to Bengaluru once again for the 6th time. We are confident that the city and its people will support us and help make this run a humongous success. Pinkathon is more than a marathon. it is the seed of change & the beginning of a movement that is carried forward by a growing community of empowered women across India, who share a belief that a healthy family & a healthy nation & a healthy world begins with empowered women, 1st step in empowerment is taking control of your own health, respecting yourself & understanding & celebrating the value you bring to your family & society. Empowerment is not a gift of society; it is a gift you give yourself."
The fitness icon Milind Soman further added, "Fitness is liberating. If a culture of regular exercise & fitness must take root in India, our women need to become aware about the benefits of fitness. They need to be able to get out & run, which doesn't happen enough due to varied cultural reasons. we now organize Pinkathon in 8 cities. More than 10000 women run at each of these events at the Vwash plus 3 km, 5 km, 10 km & 21 km distances. they run in running gear but also in sarees, salwar kameez, hijabs or whatever attire they deem fit and keeps them comfortable."
Reema Sanghavi, co – founder Pinkathon & managing director, Maximus Mice & Media Solutions Pvt Ltd averred, "We start the New Year on a fit & healthy note with Colors Pinkathon Bengaluru which is a runner's paradise & haven for fitness enthusiasts. In fact Pinkathon was conducted in varied cities like Bangalore, Hyderabad, Kolkata, Delhi, Chennai, Guwahati & Pune as well as our 1st ever International Pinkathon in Kathmandu in the year 2017. The multi – city national event has received an overwhelming expression of support with over 100,000 women of all ages, across different walks of life having participated this year. This number is expected to grow in leaps & bounds in 2018. The campaign will be supported by an integrated communication plan which includes several pre – event activities like training runs for baby wearing mothers, 1st time women runners & cancer survivors too. We have introduced several new events to encourage running across the strata of the society & age groups as well as differently abled. There will also be an extensive online campaign to reach out to the masses and help the movement grow. We have started the traditional attired cycle really & the fearless Midnight Run to encourage more women to step out of their homes and take up their health seriously"
Anant Bajaj – Joint Managing Director – Bajaj Electricals Ltd averred, "Bajaj Electricals Ltd has always collaborated with platforms that have worked towards women empowerment. We strongly feel that empowerment goes far beyond giving equal rights to women. It is about making women confident enough to trust themselves, act independently & most importantly to take control of one's own health & well – being. Pinkathon is an excellent platform through which we can achieve the objectives and at the same time women can be made aware of dreadful disease such as breast cancer through a fitness drive. We hope to continue this association with Pinkathon for the years to come as well."
As a precursor to the main day, the team is organizing unique events such as the cancer shero trek for the cancer survivors. This event is dedicated towards felicitating these inspiring people. Starting with a trek, this event felicitates the inspiring cancer survivors honoring them with an "I inspire" medal. In Colors Pinkathon Bengaluru, 50 visually impaired girls would be participating in the different run categories. To prepare them for the main day, unique training sessions are designed with the help & coordination of sighted runners. Colors Pinkathon Bengaluru – inspiring partner's Bajaj Electricals is organizing special training runs in varied parts of Mumbai for the registered participants who have requested training for the main day. Pragya Prasun acid attack survivor was announced as the mascot for the visually impaired squad who will be the running the Vwash plus 3 km. 30 hearing impaired girls would also be participating in the Vwash plus 3 km category. Aparupa Gupta, a cancer survivor, was announced as the mascot for the 5 km category run & Nagrathna Bhat a visually impaired participant from Samarthanam was announced mascot for 10 km. all of them were presented with the 1st ever bib.
As one – of – a – kind initiative, every single participant of Colors Pinkathon Bengaluru – inspiring partners Bajaj Electricals can choose to avail of a free Gynaec consultation from our healthcare partner Apollo Foundation or a free mammogram if the participant is above 45 years of age, the same is also transferable.
Milind Soman also highlighted the concept of Pinkathon ambassadors in every city who are passionate, extraordinary, committed men & women connecting for one cause, "health for every woman". Each & every Pinkathon ambassador is a part of the Pinkathon core team and registers all the women in their circle of influence. In fact Pinkathon inspires each everyone who believe that together, we can do more. Varied initiatives are undertaken by the Pinkathon ambassadors to connect with women across varied strata of the society. "Pinkathon goes to school" is another interesting concept to encourage mother – daughter teams to run together. The idea is to encourage health & fitness at every age. There are over 300 Pinkathon ambassadors across cities working selflessly towards promotion of the cause.
Colors Pinkathon in Bengaluru has received huge response from corporate sponsors like Colors, Bajaj Electricals, Vwash Plus, Reebok, Enerzal, Apollo Foundation, Red FM, Bisleri et al.
The focus of India's biggest women's only running event, is to encourage an active lifestyle & overall fitness amongst women, while creating a much needed awareness about breast cancer & bone health and encourage thousands of new or 1st timer women to take up running. All proceeds raised from the event will be used for the expenses incurred in organizing & marketing the event, and by the women's cancer initiative in its fight against breast cancer. the official website for Colors Pinkathon is www.pinkathon.in through which participants can register online. Twitter handle: @pinkathon10k
Not only this Colors Pinkathon has won several National & international awards such as wow awards for "Best Festival Of The Year" & "Best Sports Event Of The Year" & Eemax Global for "Best Public Event Of The Year" for ticketed & non – ticketed category.
Maximus Mice & Media Solutions was founded by Reema Sanghavi (Managing Director) & Milind Soman (Director) in 2008. Pinkathon – empowering indian women, like all other Maximus is characterized with their trademark of effective brand communication & fiery enthusiasm. Maximus Mice & Media Solution has been supporting the cause since its inception and working constantly to take it to greater heights.
Both Reema Sanghavi & Milind Soman feel very strongly for the cause and have worked diligently to make this a national entity that resonates with the women across India.
Colors is viacom18's flagship brand in the entertainment space in India. A combination of "emotions" & "variety", Colors, launched on 21st Jul, 2008, offers an entire spectrum of emotions to its viewers, from fiction shows to format shows to reality shows to blockbuster movies – the basket contains all "Jazbaat Ke Rang". In fact Colors is dedicated to promoting "cohesive viewing", through programmes like Thapki…Pyaar Ki, Devanshi, Sasural Simar Ka, Shakti…Astitva Ke Ehsaas Kii, Udann, Chakravartin Ashoka Samrat, Swaragini, Kasam…Tere Pyaar Ki, Krishndasi, Kawach…Kaali Shaktiyon Se, Jhalak Dikhhla Jaa, Comedy Nights Bachao Taaza, Nagin 2, Bigg Boss, 24, Shani & Dil Se…Dil Tak amongst others.
Viacom 18 Media Pvt Ltd is one of India's fastest growing entertainment networks and a house of iconic brands that offers multi – platform, multi -Generational & multicultural brand experiences. A joint venture of Viacom Inc. & the Network18 group, Viacom18 defines entertainment in india by touching people on air, online, on ground, in shop & through its cinema.
Women's Cancer Initiative – Tata Memorial Hospital (wci – tmh) Devieka Bhojwani started wci – tmh in 2003, in partnership with Tata Memorial Hospital, and has been designed to take care of varied issues related to cancers in women such as breast, cervical & ovarian cancers.
The foundation has undertaken numerous initiatives to create awareness & emphasize the importance of early detection. It aids on the causes & The cures of the disease, as well as facilitates interaction between professionals through annual breast cancer conferences. The foundation also financially supports over 500 women annually who are unable to afford their treatment but have over an 80% chance of recovery.
The event was held at the 2nd floor Terrace Garden, the hub @ safina plaza, 84 / 85 infantry Road, Bangalore 560001