By : PRAMESH S JAIN
Two big fish of Government in ACB Net,ACB raids KIADB, BDA officials,Rs 5 crore cash, 4 kg gold seized in raid on officials: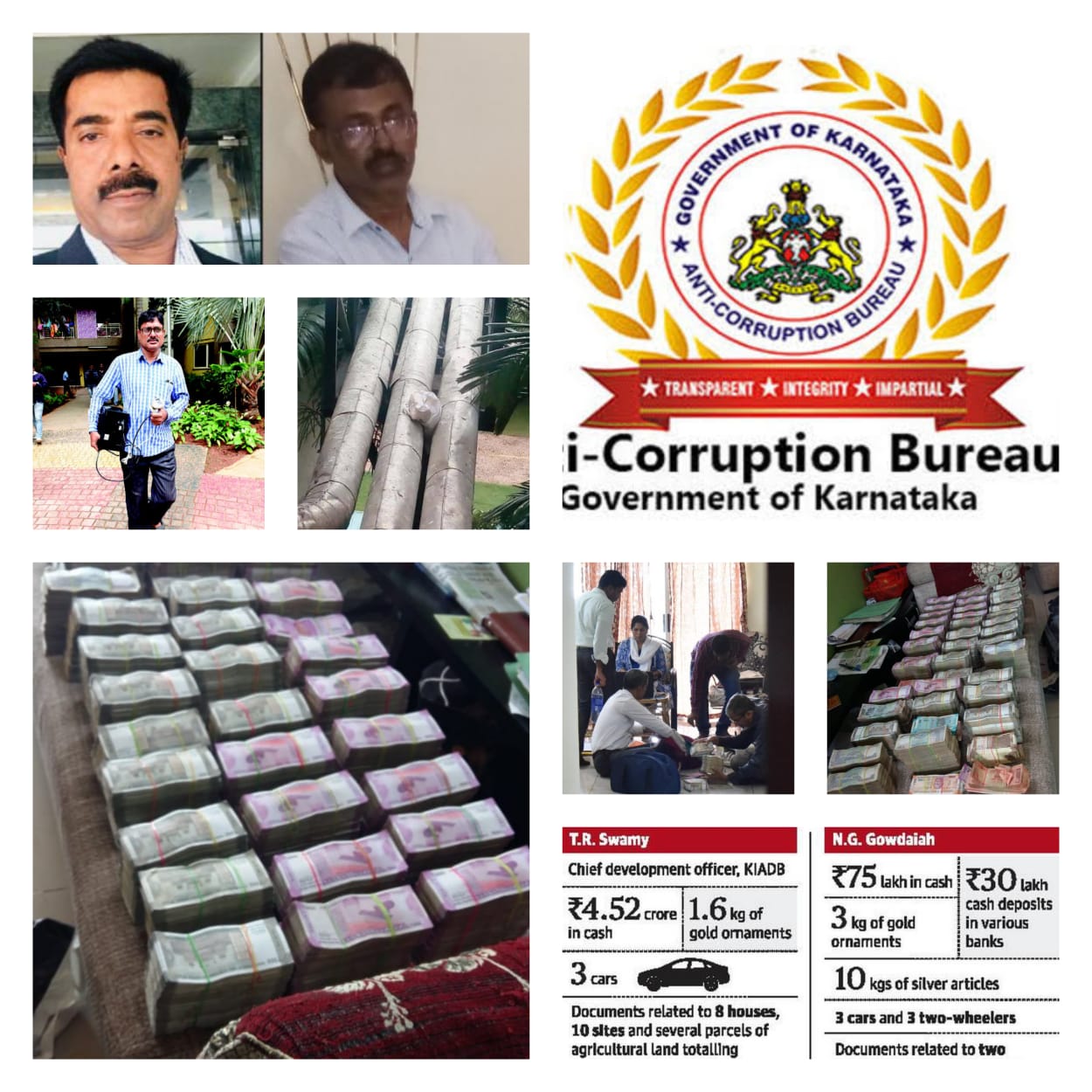 A first big raid by ACB sleuths after it established by Karnataka state government.
In its first of its kind a major haul, by the Anti Corruption Bureau (ACB) after it started by the government the raided premises linked to two officials in Bengaluru.T.R.Swamy,Chief Development Officer, Karnataka Industrial Area Development Board (KIADB) and N.G. Gowdaiah, Engineer Officer–5, Bangalore Development Authority (BDA) and recovered Rs.4.52 crore and Rs.75 lakh cash, respectively from their residences.
The raids, conducted by eight teams, began at 6 am at eight locations in Bengaluru and two in Tumakuru district. Swamy's flat on the 15th floor of Mantri Greens complex in Malleswaram, Gowdaiah's residence in Basaveshwaranagar, their offices and houses of their relatives were raided in Bengaluru and Tumakuru district.
A total of eight locations in Bengaluru and two locations in neighbouring Tumakuru district were raided by eight separate teams.The raids were in connection of top bosses of the Bangalore Development Authority and Karnataka Industrial Areas Development Board.
The accused officials are NG Gowdaiah, Engineer Officer-5, BDA and TR Swamy, Chief Development Officer, KIADB, the ACB said in a release.
Accused official NG Gowdaiah was under the scanner of Karnataka Lokayukta he was arrested on corruption charges.The raid took place 3 years back.
Reports says the Unaccounted wealth, including Rs 5.27 crore in cash and 4.6 kg of gold with demonetised currency notes with foreign currency and costly watches,were seized from the houses of two state government officials here Friday in raids, the Anti Corruption Bureau said.
Based on inputs,IGP,ACB,Chandrashekar and SP,ACB, Ramnivas Sepat and their eight teams carried out a raid simultaneously at eight properties of an engineer of Bengaluru Development Authority N G Gowdaiah and a top official of the Karnataka Industrial Area Development Board T R Swamy.
The raid on Gowdaiah's house yielded documents relating to the purchase of two houses, eight plots,14 apartments and Rs 30 lakh as bank deposits,it said in a release.
In addition to this, three kg of gold, 10 kg of silver, three cars, three bikes, Rs 75 lakh in cash and Rs 4.5 kg of gold ornaments were seized, the release said.
The raid on Swamy's residence revealed papers relating to purchase of eight houses in the name of his family members and close relatives,10 plots and a 10-acre farmland.
The ACB seized 1.6 kg gold and three cars from his residence.
The raids witnessed high drama as T.R. Swamy reportedly refused to open the door of his flat on the 14th floor of a high-rise apartment complex in Malleswaram.Our sleuths were made to wait for about 45 minutes.Sensing trouble, they had positioned themselves on the ground floor facing the window of his flat. Officials recovered bags someone threw out of the flat. The bags had wads of cash and some documents, said M.Chandra Sekhar, IGP, ACB.
ACB sleuths said they raided KIADB's Chief Development Officer TR Swamy's 15th floor apartment in Mantri Greens complex in Malleshwaram and BDA chief engineer Gowdaiah's residence in Basaveshwaranagar.The other locations included houses owned by relatives of both the officers.
An ACB source told media persons that We have unearthed lakhs of unaccounted cash.TR Swamy was trying to get rid of the unaccounted cash when the ACB team went to raid his apartment. He was throwing a bag out the window when the officials broke the door and entered the apartment in Mantri Greens. One bag had fallen on a ground floor which we recovered.
Reacting to Friday's raids,Minister for IT, BT and Biotechnology KJ George told media persons ,The ACB officers are doing their job.They will take action once the probe is complete.Let them do their job. Yes, the officers are from my department, but they were in that department even before I became the minister. The ACB will take action if necessary."
Recently, three officials of the Revenue Department were booked by the ACB. The ACB reports directly to the CM's office and came into existence at the time of former CM Siddaramaiah's tenure at the expense of the Karnataka Lokayukta's independent investigative powers.
On March 9, ACB had raided 36 properties, including offices of nine government officials in Bengaluru, Kolar, Ramanagara, Hassan, Chikkamagaluru and Udupi.
At that time, other than cash, investigators also discovered property documents relating to disproportionate assets.
Reportedly, P Vijaykumar, assistant engineer, rural drinking water subdivision in Koppal, had flushed down Rs 5 lakh in cash keeping the officials waiting at the door.
In March alone, the ACB registered 34 cases of corruption under Prevention of Corruption Act.