By : Pramesh S Jain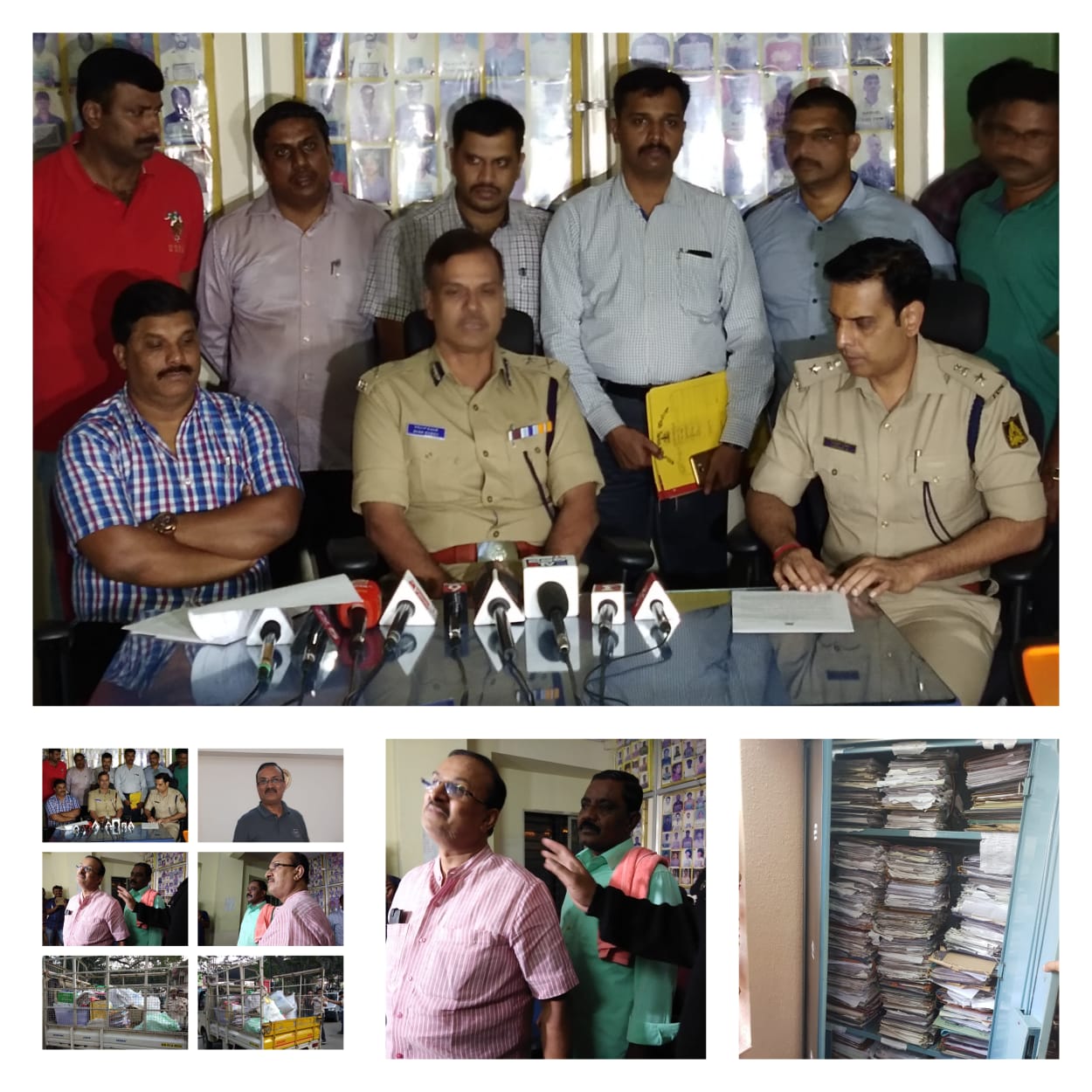 Notorious Land Shark,Mirle Varadaraj and aide arrested by CCB police around Rs.500 Crore properties paper seized.
"Mirle Varadaraj is a Big catch by DCP Crime,Girsh S and his team".
Bengaluru cops appeal to general public to complaint against land grabbers.
"Addl CP Crime,Alok Kumar and DCP Crime,Girish S,appeals to public of Bengaluru to lodge complaint if Rama,Lakshmana and Mirle Varadaraj  harassed the people.The department would take action against Mirle in spite of his influence Alok Kumar said.
Highlights :
* The papers relate to properties worth over Rs.500 Crore.
* A whopping 100 cases.
* Varadaraj formed teams to grab lands.
* The next step would be to forge documents for the vacant site.
* Either encroach or wait till the owner starts construction.
* Varadaraj roped in notorious criminals.
* Impressive backing from all parties.
* A master – loan agent turned into land grabber .
Bengaluru Central Crime Branch police have conducted raids on fraud Mirle Varadaraj and his associates house in Kengeri and arrested on charges of extortion as Mirle Varadaraj has allegedly amassed huge assets by intimidating people.Mirle Varadaraj has allegedly unsurped properties by using rowdies and property documents around worth Rs.500 Crore has been seized from his possession.
The accused has been identified as Varadaraj alias,Mirle Varadaraju, a resident of Kengeri Satellite Town, and his associate Depot Nagaraj (40) have been arrested.
CCB sleuths raided his house at 5th Main Road in Kengeri Satellite Town and the premises of his associates Nagaraj, Deepak and rowdysheeter Lakshmana on Thursday morning. At Varadaraju's house, police found an almirah filled with hundreds of documents related to various residential proper.
More than 100 cases?
Mirle Varadaraj has been facing 83 cases pending in city civil court and in the same way, 17 criminal cases and his wife Girija Mirle is also facing 10 land related cases, it is said.
He has been involving in land scam, hafta recovery and other criminal activities.
Modus Operandi :
"Varadaraju and his associates approached people who had property disputes on the pretext of settling their cases.They took their property documents claiming that they have to verify them.After that,they never returned the documents and instead forced these people to sell their land to them at a price much lower than the market value. For those who did not budge, rowdy Lakshmana used to threaten them.
Rangaswamy, victim told media persons that,This is a BDA-approved layout the site comes under survey number 20 he has nothing to do with this survey number he also claims that the plots next to this site also belong to him.He doesn't take the legal route but just stops the construction the cops too do not register complaints against him.Vardaraj comes at night and demolishes the structure.He damages all the cameras first.He brings his goons along and resorts too Hooliganism he also attacked me injuring in my head he had also threatened me with a gun the cops did not even register a case he added.
Chennaiah,another victim told media persons that,I am a retired bank employee and am trying to build a house for the last 7 years but since 2010, Varadaraj is not allowing us to construct our house.He arrived with his rowdies and demolished the construction we have just completed 40 percent of construction.I have the relevant documents and the construction is approved by the government agencies.Varadaraj has stopped the construction with the help of the police,By claiming that the CM had asked to stop the construction if the CM doesn't intervene there are many who will commit suicide he added.
Alok Kumar,Addl CP Crime,told media persons that, we have received many complaints from the public about Varadaraju harassing them by forcibly taking their land documents. Based on these complaints, CCB sleuths raided his house as on December 6th at around 7am a team of 20 CCB sleuths headed by DCP Crime,Girish S,and his staff swung into action and raided the house of Mirale Varadaraj in Kengeri and they kept him under house arrest till evening and after getting bunch of documents in his steel almera the sleuths have arrested him.
We have found documents relating to many properties from Varadaraj's house.We do not have an exact estimate but looks like the properties are worth around Rs.400-500 crores.He first said he had documents worth 3 Acres,but looking at the number of documents it should be more than 100 Acres.We will have to verify it to the detail.We acted on a complaint lodged by a man named Chennaiah stating Depot Nagaraj,Deepak and Lakshman barged into his site and threatened him and also attacked him.We have registered cases under the relevant sections of the IPC.In a past instance we received a complaint against the land grabber,but when we went to take action the complainant reneged and denied lodging a complaint.This is not right we will take stern action if we receive a written complaint we request victims to lodge complaint against Varadaraj and his men and even against other land grabbers.
Mirle Varadaraj is basically from KR Nagar resident and he was a jaggery merchant. But it is alleged that he has been funding the rowdy elements in Kengeri,Ullala,RR Nagar,Nagarabhavi, Annapoorneshwarinagar and other places. Mirle has been cheating people after getting lakhs of rupees from them showing the government land and promising them of giving sites.If the people demand money back, he has been threatening them with the help of rowdy elements.Along with Mirle Varadaraj, his close friend Nagaraj alias Depot Naga was also arrested and property documents worth over Rs 500 crore were recovered from their possession.
A detailed investigation by team it is revealed that Varadaraju, who hails from Srirangapatna, has 25 criminal cases against him in Annapurneshwarinagar, jnanabharathi, Kengeri and Rajarajeshwarinagar police stations.Besides, he is also attending court for 80 civil dispute cases.Public hesitates to complain against land grabbers as they use rowdy elements to issue threats.People should come forward and file formal complaints in police stations or with CCB.
Varadaraju and his family members have 15 accounts in various banks.We will write to the banks concerned to freeze those accounts.Documents pertaining to properties worth around Rs.500 crore need to be verify whether it is genuine or forged and we have found empty bond papers too in their possession and with this the sleuths have seized three cars as Mercedes Benz,Skoda and Innova car from his possession.
There are lapses by the police in investigating cases against him.In a case registered in Annapurneshwarinagar, police have filed a chargesheet mentioning that the accused is absconding.In another case,Varadaraju is not named an accused in the FIR though the complainant has mentioned his name.
A report will be submitted to the police commissioner in this regard.A case has been registered in Annapoorneshwarinagar police station under section,143,147,148,149,307,427,384,r/w,149 and various sections of IPC. and we will open a rowdy sheet against Mirle Varadaraj and our team are on the lookout for Lakshmana and Deepak, who are absconding and finally Bengaluru Police Commissioner,T.Suneel Kumar,has appreciated,Addl CP Crime,Alok Kumar,DCP Crime,Girish.S,ACPs,as,Mohan Kumar,and P.T.Subramanya,and his team PIs,as,Murugendraiah,Harish,Prakash Rathod,Manjunath.B,Sathish,Niranjan Kumar,Ashwath Gowda,Anjan Kumar,PSIs,as,Praveen and staff as,Anand,Hanumanthappa,Shivkumar, Shantharaj,Gajendra,Nagaraj,and Raghavendra and other staff have successfully nabbed the notorious dreaded fraud and recovered various properties documents worth around Rs.500 Crore from his possession a good and exemplary work by the whole team he added.