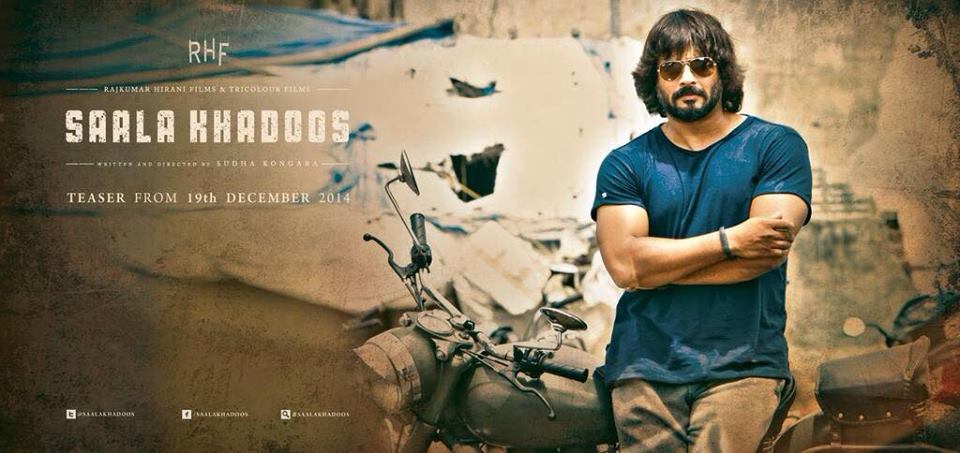 Producer: R. Madhavan and Rajkumar Hirani
Director: Sudha Kongara Prasad
Star Cast: R. Madhavan, Ritika Singh, Mumtaz Sorcar, Nasser, Radha Ravi, Zakir Hussein, Kaali Venkat, Baljinder Kaur and Sanjana Mohan
Debutante director Sudha Kongara Prasad makes a very impact debut in Bollywood with Saala Khadoos. The movie also has its Tamil version known as Irudu Suttu.
The plotted scenario of the movie starts off with the introduction of Adi Tomar aka Adi (R. Madhavan), who, by profession, happens to be a coach of the girls' boxing team. Courtesy the dirty politics (wherein he is falsely accused of sexual harassment), he gets transferred to Chennai. Adi is now on a lookout for a girl who has the much required passion for the sport and fire in her belly. And his search ends in the most unlikely person for the job Madhi (Ritika Singh), who, despite being a fisherwoman by profession, is a born talent in boxing and she idolises Mohammad Ali.
Aces: The rock solid par excellence performance of R. Madhan as a boxing coach and of course the gutsy performance of debutante Ritika Singh as an aspiring boxer and finally emerging as a winner – a world champion in the boxing arena. The chemistry between R. Madhavan and Ritika Singh deserves a noteworthy mention. The other actors too lend them an adequate support. And last but not the least debutante director (in Bollywood) Sudha Kongara Prasad is just excellent and too good to be true.
Minuses: Some of the predictable stock characters and situations arising out of dirty politics being played out, time and again, in the sports arena.
Last Word: Saala Khadoos is by far the best sports film so far since Chak De! India, Bhaag Milkha Bhaag, Mary Com, Brothers et al. A certainly not to be missed fare.