Sui Dhaaga – Made In India Is A Heart Touching Story Told Beautifully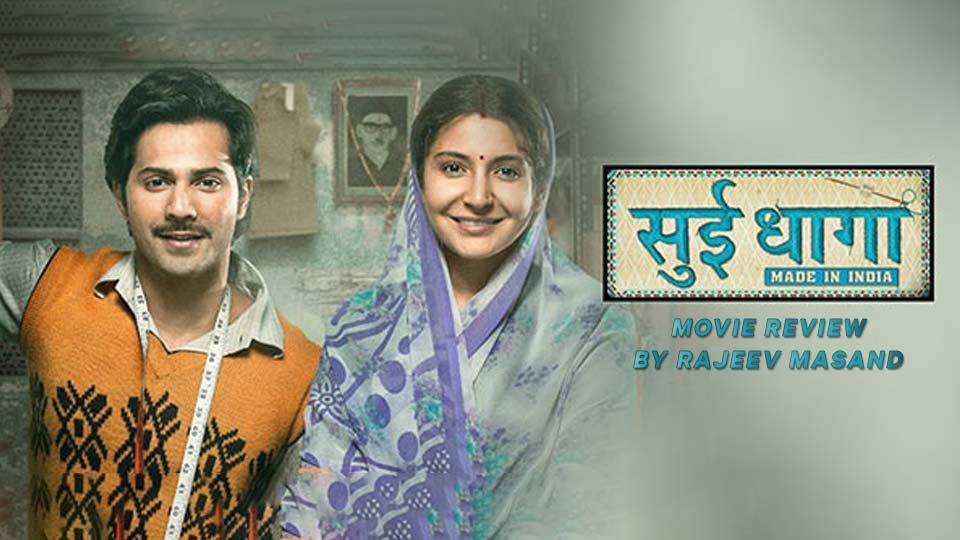 Banner: Yash Raj Films
Producer: Adiya Chopra
Director: Sharat Kataria
Star Cast: Varun Dhawan, Anushka Sharma, Raghuveer Yadav, Yamini Das, Sawan Tank, Manukriti Patwa, Siddharth Bhardawaj, Ashish Verma, Namit Das, Bhupesh Singh, Govind Pandey, Harleen Bedi & above all Katrina Kaif
Music: Anu Malik & Andrea Guerra
Director Sharat Kataria's 1st ever outing Dum Laga Ke Haisa was a sincere movie & now in his 2nd outing
Sui Dhaaga – Made In India once again Sharat Kataria delivers a very heart touching film.
Since more than a decade, filmmakers have been increasingly setting their stories in the heartland of India. This gives the film an authentic & realistic touch and also helps the film get a wider appeal. More number of people watch such films, provided they are told in a simple & entertaining manner, as they could relate to such stories more than the ones set in urban or foreign regions. Sui Dhaaga – Made In India, is not only based in a village, it also makes some important comments about social entrepreneurship for the social & the economic development of the rural artisans.
The scripted scenario of Sui Dhaaga – Made In India opens with a heartwarming story of pride & self-reliance of Mauji (Varun Dhawan), who stays in a village near Delhi with his wife Mamta (Anushka Sharma), father (Raghubir Yadav) & mother (Yamini Das). Mauji works at a shop that sells sewing machines, owned by Bansal (Sidharth Bhardwaj) & his son Prashant (Ashish Verma). Both have a habit of ill-treating Mauji and make him do fun antics. When Prashant gets married, Bansal invites Mauji & his entire family. Mamta feels humiliated when she sees Mauji being asked to imitate a dog by the Bansal's. Mamta encourages him to start his own business, especially since he is a pro at sewing. However, Mauji's grandfather was a tailor who had faced immense losses. Hence, his father vowed never to get into this business again. Mauji at first rejects Mamta's suggestion but later leaves his job and puts a stall on the streets in Delhi. On the other hand, Mauji's mother falls down in their house and she's hospitalized. The tests reveal that she has multiple blockages in her heart. The family is already having a hand-to-mouth existence and Mauji's mother's hospitalization further add to their woes. Moreover, Mauji has left his job as well. What happens next forms the rest of the crux of the story of Sui Dhaaga – Made In India.
Sharat Katariya's story is simple and the need of the hour. It reminds one of the films of yesteryear director Hrishikesh Mukherjee and gives a nice ode to that kind of adorable cinema. Sharat Katariya's screenplay however is much more impressive. He does total justice to the characters & the setting and also keeps the viewers involved. However, unlike his previous outing Dum Laga Ke Haisha (2015) which had plenty of funny moments, Sui Dhaaga – Made In India is more dramatic. There's not much scope for humor and a section of audiences might miss that. Sharat Katariya's dialogues are witty and play a major part in contributing to the laughter quotient.
Sharat Katariya's direction is brilliant and enhances the well written script. He could have made the film a bit tighter & less convenient & predictable but thankfully these are the minor flaws.
Sui Dhaaga – Made In India's 1st ever shot is very impressive and captures a lot simply in one take. After establishing the characters & the setting, the film wastes no time in getting on point soon. The hospital sequence is lovely but in the 1st ever half, what takes the cake is the pre-interval sequence. A point to be noted is how the makers raise the tension levels!
In the 2nd half, the film drops a bit. Also the manner in which Mamta & Mauji get shortlisted for the fashion tournament seems a bit convenient. But the finale makes up for it & the film is sure to leave viewers with a smile.
Anu Malik's music goes very well with the film, although it's not of a chartbuster variety. The title song comes at a very crucial juncture and makes an impact. "Chaav Laaga" is melodious. "Khatar Patar" & "Tu Hi Aham" are situational songs & work. "Sab Badhiya Hai" is missing from the film. Andrea Guerra's background score is in sync with the film's mood & is also subtle.
Anil Mehta's cinematography is too good & doesn't get lost in capturing the simplicity of the village or the glitz & glamour of the city life. The lensmen captures only what's essential. Meenal Agarwal's production design is realistic. Darshan Jalan & Neelanchal Kumar Ghosh's costume designers deserve brownie points as it's one of the pillars of the film. Charu Shree Roy's editing is simple & neat.
Performance wise Sui Dhaaga – Made In India belongs to Varun Dhawan & Anushka Sharma. Both actors deliver powerhouse performances. Varun Dhawan looks every inch a village simpleton and is sure to be loved. He plays his part with earnesty and that shows. Notice his reaction when the Bansal's force him to act like a dog and how he beautifully hides his embarrassment. Also in the climax scene especially in the hotel lobby sequence, he's too good. Anushka Sharma gets mentioned before Varun Dhawan in the opening credits and has a very crucial part to enact. One forgets that she is THE Anushka Sharma and gives her 100%. In a scene where she asks her mother-in-law if she's fine and whether she liked the hospital, the actress seems so natural. Raghubir Yadav gives a very touching performance. Towards the finale especially, he's sure to make the viewers teary-eyed. Yamini Das plays her part perfectly, especially in the hospital scenes. Puja Sarup (Harleen Bedi) leaves a huge mark. The same goes for Namit Das (Guddu). Bhupesh Singh (Naushad) is damn good. The actors playing Majnu, Majnu's wife, Palteram and others are also very good.
On the whole, Sui Dhaaga – Made In India is a simple tale told beautifully with strong emphasis on emotions.
Tail Piece: At the box office turnstiles, the film will have to rely on a very good word of mouth publicity to attract audiences. It also had an extended 5 day weekend of sorts (with 2nd Oct, 2018 being a National Holiday). Hence, the film would surely have a healthy run at the Box – Office turnstiles cash counters and would prove more profitable or should we say "badhiya" for the producers. Recommended!