Kumaraswamy's appeal to Union Power Minister Piyush Goyal comes amid a shortage of coal in Karnataka's thermal power plants.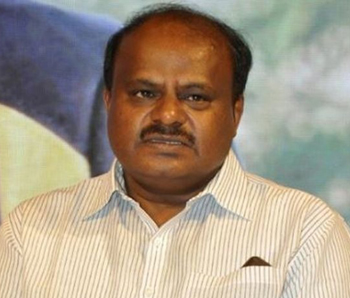 Karnataka Chief Minister HD Kumaraswamy raised concerns of a power crisis in the state and appealed to Union Minister of Railways, Coal and Corporate Affairs, Piyush Goyal, to ensure a steady supply of coal to the state. The appeal comes amid a shortage of coal in the state's thermal power plants.
On Wednesday, CM Kumaraswamy, in a letter to the Union Minister, pointed out that the Raichur Thermal Power Station (RTPS), which has a capacity of 1720 MW, currently has no stock of coal. Kumaraswamy said that the dire situation had risen in the state after Western Coalfields Limited (WCL), a unit of Coal India Limited (CIL), supplied 6 Lakh MT of coal lesser than the quantity that was agreed upon in the Fuel Supply Agreement (FSA) signed by the two parties.
He further urged the Union Minister to ensure that the deficit is removed by Mahanadi Coalfields Limited (MCL), another coal company.
The RTPS which is an eight-unit power station needs 26,000 tonnes of coal on a daily basis to run its units. When its coal stocks are exhausted, the power station is forced to depend on coal rakes on a daily basis.
A year ago, the Karnataka government had raised a similar complaint after which a meeting was arranged between WCL and Karnataka Power Corporation Limited (KPCL). In the meeting held on October 11, it was agreed that WCL would dispatch one rake of coal to KPCL plants every day.
The RTPS is one of three thermal power stations in the state alongside the Ballari Thermal Power Station (BTPS) in Ballari and the Yermarus Thermal Power Station (YTPS) in Raichur. The Karnataka government has set up coal linkages in its thermal stations with three suppliers – Singareni Collieries Company Limited, Telengana, WCL, Maharashtra and Mahanadi Coalfields Limited, Odisha.
PTI