Separatists in the Kashmir valley have called for a strike today over the death of civilians in a blast at an encounter site in Kulgam district.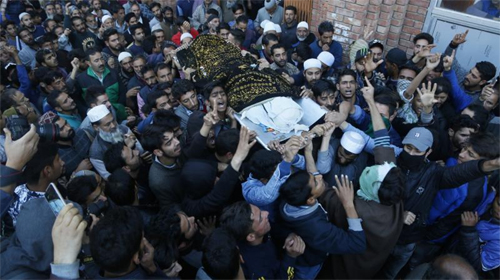 The strike has been called by separatists Syed Ali Shah Geelani, Mirwaiz Umar Farooq and Mohammad Yasin Malik under the banner of Joint Resistance Leadership (JRL).
According to reports, all schools and colleges in Kashmir will remain shut today and exams have been postponed. Train services have also been suspended in the Valley.
Three militants were killed Sunday in an encounter with security forces in Kulgam district, while seven civilians lost their lives in a blast following the gunfight there.
The Kashmir Chamber of Commerce and Industry (KCCI) and a Kashmiri Pandit organisation have extended their support to the strike called by the separatists. "In an emergency meeting held on Sunday, the executive committee of the Kashmir Chamber of Commerce and Industry expressed its shock and concern at the sharp increase in the use of brutal force against the unarmed civilians of Kashmir," a statement by the KCCI said.
Condemning the killings, the KCCI said the business community of Kashmir once again urges the government to "restrain from launching operations in civilian areas which invariably trigger more killings and worsening of the law and order situation".
"The seemingly endless loss of innocent Kashmiri lives is a matter of pain and anguish for all of us. The KCCI offers its deepest condolences to the families of innocent unarmed civilians and requests the business community to observe a complete shutdown on Monday as a mark of protest against the brutalisation of our population," it said in a statement.
The Kashmiri Pandit Sangarash Samiti (KPSS) also extended its support to the strike called by the separatists, saying it is mandatory for security forces to sanitise the area where encounter takes place to safeguard the lives of the civilians.
"We feel the pain of killing of civilians and injuries during cordon and search operation in Kulgam," KPSS president Sanjay Tickoo said in a statement.
"It seems that the security forces take these basic things casually, which resulted in Sunday's incident. While Kashmir is being pushed back to the 1990 era by people's alienating policies by the political parties, the Central establishment is enjoying the so called victory in the Kashmir valley and is not bothered to diffuse current political turmoil in the valley," he said.
Ians