'Ganu' Coming Soon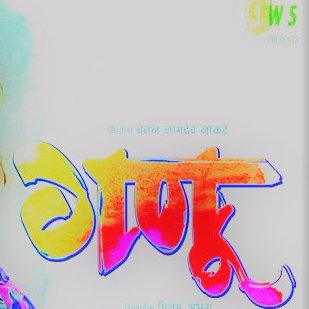 IWS Creations Ganu is all set to be released soon. The credits of the film are produced By Chetan Nakte, written & director Pritam Abhang, camera by Farooq Khan & music by Rajesh Umale. The film stars Padmanab Gaikwad, Tejaswi Patil, Monalisa Bagal et al.
Soundarya Keen On Doing Marathi Movie
Just recently, a lot of Bollywood actors are venturing into Marathi movies. Be it the Mirzya actress Saiyami Kher who will be featuring in Ritiesh Deshmukh's film Mauli, Suniel Shetty was seen in Aa Ba Ka or Madhuri Dixit who featured in Bucket List. Now, Soundarya Sharma, the lead actress in Ranchi Diaries is also keen to do Marathi movies. Speaking at an event held in the city recently, the actress who hails from Delhi made this revelation. Soundarya, who says she always wanted to be an actress, had played the role of a small town girl in her debut movie Ranchi Diaries with Jimmy Shergill & Anupam Kher.
Akshay All Set To Present 'Chumbak'
In 2017, a Marathi film titled Chumbak was screened at MAMI Mumbai Film Fest which had caught Akshay Kumar's attention. Impressed with the movie, Akshay had decided to present this movie. In a video shared by him on his social media, he averred, " A few days ago, I saw a movie which has been etched in my mind. Since then I have been thinking about the characters & the story of this film. I do not know what made this movie stick in my mind. But I have decided to present this movie, which I am sure every one of you will like." The movie directed by Sandeep Modi, has renowned lyricist Swanand Kirkire in a lead role. It is a story of friendship between a restaurant busboy & a village simpleton. It is all set to be released on 27th Jul, 2018.
Sagar To Enact The Role Of P L Deshpande
Not long ago, news about Mahesh Manjrekar making a biopic on one of Maharashtra's favorite writers, Purushottam Laxman Deshpande (affectionately referred to as Pu La) surfaced & sent fans of the late humorist's work into a tizzy. Putting rest to all speculations about the lead actor in the film, Mahesh Manjrekar announced Sagar Deshmukh as the onscreen Pu La in the film, titled Bhai and also confirmed that the film would be the first Marathi release of 2019. Sagar, who is known for his roles in films like Hunterrr & YZ, averred ahead of the announcement and shared some details about his preparation for the role, "If I have to sum up this experience in one word, I would say it's exhilarating." He further informs that he had no idea that his name was being considered for Pu La's role. "I had thought that Mahesh Manjrekar would cast someone like Atul Parchure, Anand Ingale or Nikhil Ratnaparkhi in this role. Many feel Atul resembles Pu La a lot too. So, it was a pleasant surprise when I got a call from Manjrekar in late Dec last year asking if I would like to do the role."
The Much Awaited Trailer Of Ashtavakra Is Out
Marathi industry is known for its strong storyline & content topped with great acting skills. The recent one to be entering the league is the film Ashtavakra directed by Pradeep Salunke. The movie has been gathering attention on social media not because of glitz & glamour, but content, and the trailer of the film has finally been released. The film talks about the nexus between the system & the criminals & questions whether these people are criminals by birth and who brings them to this criminal world. All these & similar aspects are going to be unfolded through the film. The film was molded after Pradeep Salunke read something about the women prisoners and their children. To make this film more realistic he met these children, whose mothers were undergoing jail sentence and was really stunned. Apart from the main crux of the story, the film will also see new artists such as Mangesh Giri, Veena Arun, Harshada Bamne & Preeti Torne-Koli along with stars Vidyadhar Joshi & Mayuri Mandlik.