26-year-old Ethiopian athlete Mikiyas Yemata outlasted compatriot Teref Shewangzaw in a close battle to win the 5th Shriram Properties Bengaluru Marathon on Sunday.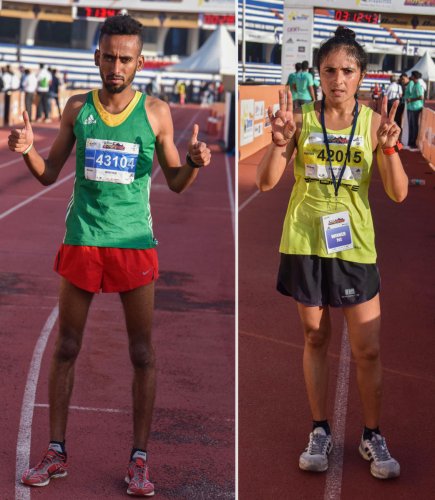 In the men's marathon, which kicked off at 4.30 am on Sunday from Kanteerava Stadium, the two Ethiopian athletes broke away from the chasing pack and dominated the race. The duo was level with each other until the last kilometre, at which point Mikiyas changed gears to speed away and emerge as the winner leaving Teref at second place. India's Hari Krishnan S finished third, almost a minute later.
During the women's marathon, India's Aneeta Chaudhary comfortably finished first.
After winning, Aneeta, who hails from Mathura, said, "We dedicate our time for training every day and participate in as many national and international marathons. I have participated in more than 4 marathons in the last one year. When you win, it increases our confidence and we wish to do more."
There were around 2,000 runners in the full marathon and over 7,000 runners in the half-marathon. The event was organised with zero use of plastic.
The second run of the morning was the Half Marathon, which was flagged off at 6.45 am with over 7,000 runners taking part. In the men's category, Evans Saitoti from Kenya was the winner, and Ravi Prakash from India was the runner-up Ravi Prakash from India. In the women's category, Birtukan Shewaya from Ethiopia beat Nitu Singh from India.
15 visually challenged runners participated in the marathon from the Samarthanam Trust. In addition to the marathon and half-marathon, a 5-km timed run was also held for the first time this year. Meanwhile, a 5-km hope run saw runners from various charity organisations come together.
TNM