Phamous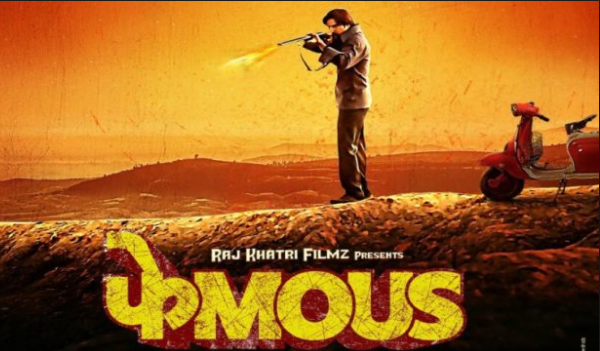 "Phamous Is Nothing But Boredom Of The 1st Order"
Banner: Raj Khatri Filmz & Om Reels
Producers: Raj Khatri, Amitabh Chandra, Sumeet Jawdekar & Nivedita Kothare
Director: Karan Lalit Bhtani
Star Cast: Jimmy Shergil, Shreya Sharan, Kay Kay Menon, Pankaj tripathi, Jackie Shroff, Mahie Gill, Brijendra Kala & Jameel Khan
Music: Krsna Solo, Sandeep Goswami, Surya Vishwakarma & Akash Prajapati
Debutante director Karan Lalit Butani has been a film critic since the last one and a half decade and has been reviewing films. He also writes on music, art & culture, and other human interest stories and yet in his directorial debut in Phamous he has come up with a beaten to death shoddy revenge drama which in itself is an insult to today's advanced audiences intelligence. Stay away as Phamous is nothing but 2 hours of "sheer" torture.
The scripted scenario of Phamous opens with Shambhu (Jackie Shroff), Kadak Singh (Kay Kay Menon), Ram Vijay (Pankaj Tripathi) & Radhe (Jimmy Sheirgill), who belong to a hamlet which abounds in power-hungry, unscrupulous & depraved men who get away with murder. In 1 such ill-fated incident Shambhu's daughter is being forcibly taken away by Ram Vijay & Shambhu opens fire to prevent him from kidnapping his daughter, but lands up in prison for accidentally shooting his daughter dead. Some years later, Radhe who was a kid when the incident took place, grows up & dreams of having his own clout in the area. He respects Kadak Singh, who along with Ram Vijay has dubious plans of becoming an MP or an MLA respectively. But when Ram Vijay sets his lecherous eyes on Radhe's wife Lalli (Shriya Saran), Radhe has to make a choice: should he protect his honor and teach a lesson to Vijay, or continue to play up to Kadak Singh for further personal gains?
From there on, the story ends up either in the culmination of power game or becomes a beaten to death revenge drama. It doesn't disappoint you for it becomes both as Shambhu gets freed from jail and a young Radhe's blood boils when his wife gets kidnapped by Vijay. Together they lust for Vijay's blood. But For all those who have grown up in the '60s & '70s, the typical Bollywood films with a daku (dacoit) in the central role were aplenty. And so one has seen the usual moustachioed burly hero who would time & again roar loudly but only if he saw anything going wrong. Yet unmistakably, he had a heart of gold, and was projected as the noble Indian Robinhood.
Yet in the present, when slice-of-life themes rule, such films will rarely find acceptance unless they are mounted on a large scale, or cut the mumbo jumbo and tell a tale with much gusto & a grand fanfare. Therefore, amongst the present lot of directors, there's a rare Paan Singh Tomar or a Bandit Queen that have won our hearts for their honest portrayal of bandits of the hinterland.
Director Karan Lalit Bhutani's Phamous (note the "Ph" that the title of the film uses as a Hindi alphabet) is set in the badlands of the Chambal region of Madhya Pradesh with a power struggle between its 4 principal characters forming the crux of its story. Narratively, the film feels both underdeveloped & overwrought, its script guessable and its climax in the rocky countryside most idiotic. Everything looks like a frantic effort to put together drama in the midst of gangsters, pistols, revenge & and mayhem with good actors delivering lines they don't find convincing. The result is a sadly muddled finale that instead of skillfully capturing a sense of real life for characters caught in a difficult situations, takes the route of violence.
Performance wise Jackie Shroff, it seems, doesn't really know what the storyline is and tries to fit in hesitatingly. Kay Kay Menon looks desperate enough to hog all the limelight and tries to mouth all his lines menacingly. Whereas Jimmy Sheirgill struggles on to stay young alternating his looks between young & middle-aged in an ill-fitting wig. His role doesn't give him enough possibility to perform, and it is his poorly written role that he has to struggle with the most. If there's one actor who takes his character seriously it is Pankaj Tripathi who, even in the silliest of scenes, outshines whosoever & whatsoever is in the frame, and emerges the most engaging character on the celluloid silver screen.
Tail Piece: Give it a miss! But watch it for the 5 and a half scenes of Pankaj Tripathi, if you must!
At the Box-Office turnstiles Phamous stands no chance of winning the race. And will not be famous. Period!!!