A special court in Bengaluru on Wednesday issued a warrant against Congress MLA from Ballari – B Nagendra, in connection with the Belekeri Port illegal iron export scam.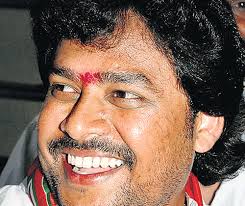 Speaking to TNM, MLA Nagendra confirmed that a warrant had been issued as he was not present for the hearing on Wednesday. Sources, however, say that Nagendra had failed to attend multiple hearings and despite several notices issued by the court, the legislator had failed to show up.
"I was not in Bengaluru and was in Ballari. I missed my flight and by the time I arrived in Bengaluru, the proceedings were adjourned and the warrant was issued. My lawyers will file for a withdrawal tomorrow," MLA Nagendra said.
MLA Nagendra was one among many of mining baron Gali Janardhana Reddy's associates, who was named in former Lokayukta Santosh Hegde's explosive report on illegal mining and export of iron ore.
The Belekeri Port scam refers to 3.5 million tonnes of seized iron ore which was exported illegally from Belekeri Port in Karnataka's Uttara Kannada district between 2006-07 and 2010-11.
Former Deputy Conservator of Forests R Gokul had seized the ore and the High Court had refused permit for it to be exported. A large part of it was surreptitiously exported from the port. The scam is said to be to the tune of Rs 60,000 crore.
According to Justice Santosh Hegde's report, large scale illegal exports of ore were done by private companies – Shree Mallikarjun Shipping Pvt Ltd (SMSPL), Adani Enterprises Ltd, Salgaonkar Mining Industries Pvt Ltd and Raj Mahal Silks.
The report has stated that officials of the Ports department, Customs, Police, Karnataka State Pollution Control Board, the Mines department and local politicians had received bribes from Adani Enterprises for undue favours to facilitate illegal exports.
It was found that 44 companies were supplying ore exclusively to Adani, 30 companies to SMSPL and eight were supplying ore to both these companies.
The companies supplying iron ore include GG Mines of Gogga Gurushantaiah and brothers, Continent Impex Pvt Ltd, Nagappa mines of Shantalakshmi Jairam, SB Minerals, Junjubail of Dream Logistics, SVK Jaisingpura of S B Minerals, SVK Danapur of S B Minerals, V S Lad belonging to former MLA Anil Lad, Nadeem Minerals, Sunrise of S B Minerals belonging to MLA B Nagendra, ILC of S B Minerals, ILC Bevanahalli, Trident Minerals, Lakshmi Venkateshwara Minerals, Arshad Export of S B Minerals, Alpine International of Vesco, Bharat Mines and Minerals, Taurine Iron and Steel Co Pvt Ltd and Satya Granites.
The iron ore was allegedly illegally extracted and transported from Hospet, Sandur, Bellary and Koppal, the report stated.
The Belekeri port scam which was one of the main cases in the Rs 35,000-crore illegal mining scam in Karnataka, first exposed by JD(S) leader Kumarawamy and then investigated by former Lokayukta Santosh Hegde, had been closed by the Central Bureau of Investigation (CBI).
In a missive sent by the CBI's Anti-Corruption Branch to the Chief Secretary of Karnataka in September 2017, the investigating agency had cited technical reasons for closing the preliminary investigation in the case.
This was in connection with the cases of illegal export of iron ore from the Belekeri port. However, in February 2018, the Siddaramaiah government, which had asked for a Lokayukta Special Investigation team to reopen the case, extended the investigation period. Now, five cases are being heard and at least 10 are being investigated in connection with the port scam.
IANS