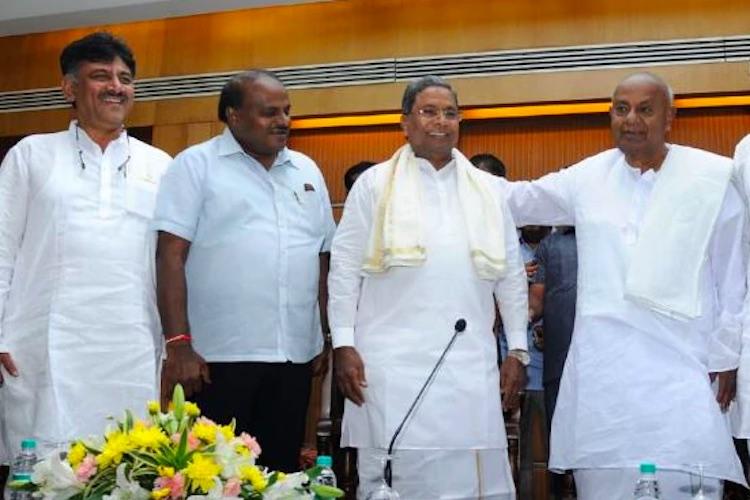 The two men most important to the Congress party in Karnataka – former Chief Minister Siddaramaiah and water resources minister DK Shivakumar – are the hardest hit by the party's decision to face the November 3 bye-elections to two Assembly and three Lok Sabha seats jointly with arch rival-turned-alliance partner JD(S).
If Siddaramaiah is the mass leader in the Congress, Shivakumar is the man who does all the backroom work and ensures that the party's intent and wishes are carried out. They don't like each other, but both are in the same boat over these bye-elections, as sacrificial goats for the larger cause that their party espouses.
Both are self-made politicians from the Old Mysuru region, who have worked their way up the party ranks and have the arrogance to mark it. If Shivakumar was former Chief Minister SM Krishna's go-to man, Siddaramaiah was the same for former Prime Minister HD Deve Gowda. Both are considered sharp strategists and men who can win elections – Siddaramaiah by eloquence and governance, Shivakumar with money and muscle.
Shivakumar has been a Congress man right from 1985, when he contested and lost against Deve Gowda of the Janata Party (later Janata Dal) at his Assembly constituency of Sathanur. Since then, he has won all elections from this seat, and the subsequently redesigned and renamed seat of Kanakapura, against the Janata Dal, including once in 1989 as an independent when the Congress denied him a ticket. He defeated the current Chief Minister, Deve Gowda's son HD Kumaraswamy, in Sathnur in 1999, and ensured the defeat of Kumaraswamy's wife Anitha against his brother, DK Suresh, in the Bengaluru Rural Lok Sabha bye-election in 2013. The only other defeat that he suffered in his career was also against Deve Gowda, in the 2002 Kanakapura Lok Sabha bye-election.
The rivalry between him and Deve Gowda-Kumaraswamy is almost the stuff of legend. It is incomprehensible to the Congress and JD(S) party workers how their leaders could have buried the hatchet in this manner, when they were forced by politics to work together. In the Old Mysuru districts of Bengaluru Rural, Ramanagaram, Mandya, Mysuru, Hassan and Tumakuru, Congress-JD(S) loyalties have split families vertically. There are self-designated Congress and JD(S) villages, who do not speak to each other, have periodic fights and no relations, whatsoever.
Two of the five seats in the bye-elections – Ramanagaram Assembly segment and Mandya Lok Sabha constituency – fall in the Old Mysuru region. Ramanagaram is one of the two seats that Kumaraswamy contested and won. He chose to retain Channapatna and field his wife Anitha from Ramanagaram. The Congress-JD(S) alliance worked out by Rahul Gandhi has now pushed the party loyalist Shivakumar and his brother, Bengaluru Rural MP DK Suresh, into the unenviable situation of ensuring the victory of their bitter opponents.
Shivakumar has largely run away to Ballari, the other hard-to-win Lok Sabha seat in this bye-poll, which he is tasked to wrest from the grip of BJP leader B Sriramulu and his close friend Janardhan Reddy. However, he and Suresh had to address Congress party workers in Ramanagaram and convince them to support Anitha for the sake of "the larger good" of keeping the BJP away from governance.
The Congress workers are trying to put on a good face, but most are miserable at this turn of events. "We are also not in a position to say anything to them. This is a decision forced upon us by the High Command. We agree in principle, but how can we change decades of rivalry with one stroke?" a Congress leader from Old Mysuru asked.
Siddaramaiah is in almost as hard a place as Shivakumar. Once the chief lieutenant of Deve Gowda and the man who built the JD(S) along with him as the state unit's president, Siddaramaiah exited the party when Kumaraswamy began getting more prominence. After building his entire career on anti-Congressism, Siddaramaiah went to that party as a new convert, and initially had a very tough time convincing their workers that he was their man now. Every action of his since has been put through the lens of 'does it favour the JD(S)?' Many Congress workers and the party's old hands don't trust him. But Siddaramaiah has the trust of Sonia and Rahul Gandhi, who made him the state's CM – something that Deve Gowda refused to do. The bitterness has been such that Deve Gowda and Siddaramaiah refused to meet each other or even talk to each other till as late as 2016, when a Cauvery crisis forced a truce.
Officially, they are now on the same side and addressed a joint press conference with Siddaramaiah sitting between Deve Gowda and Kumaraswamy, with Shivakumar sitting next to the CM as well. Siddaramaiah holds Kumaraswamy responsible for the old break with Deve Gowda, and feels that this son of his mentor belittled him at every given opportunity. Under pressure from Rahul Gandhi and in deep sorrow over his defeat in his home constituency Chamundeshwari in the state Assembly elections in May that threw up a hung Assembly, Siddaramaiah consented to the ruling alliance in Karnataka with his former party JD(S) under Kumaraswamy. His deciding not to campaign in Ramanagaram for the bye-election is a clear sign that he has not been able to stomach the situation yet.
The former CM, however, did visit Mandya, which again is a hot-bed of Congress-JD(S) animosity. He addressed a press conference where he stuck to a tired line: "Congress and JD(S) may have fought each other (in the past), but in order to face communal forces in the interest of the country, we have formed an alliance." Siddaramaiah also met with Congress workers in KR Nagar of his home district of Mysuru, which is part of the Mandya Lok Sabha constituency, and tried to convince them to vote for the JD(S). His situation in Mandya is slightly easier than Shivakumar's in Ramanagaram, as the alliance candidate put up by the JD(S) is LR Shivarame Gowda, a long-time Congress man who switched sides in 2017.
TNM