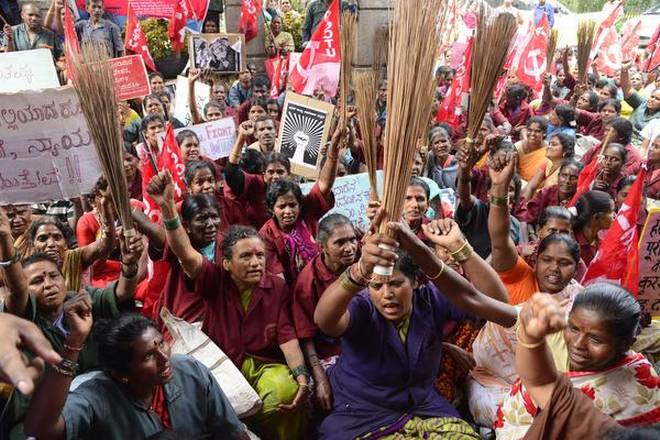 Officials at BBMP are taking undue advantage of the fact that these women are illiterates and don't have the guts to raise their voice, says a FB post.
After actors and journalists, the #MeToo wave seems to have reached the pourakarmikas, the civic workers who keep Bengaluru's streets clean. An anonymous Facebook post carrying the hashtag '#TheyToo' claimed that her mother-in-law and many others in BBMP have been sexually harassed by officials.
The post, which is in Kannada said, "Sexual harassment is not just limited to sandalwood stars and the rich but also the poor like pourakarmikas. My mother-in-law and other women like her who work with the BBMP as pourakarmikas have to face sexual harassment almost every day," said the post.
It also alleged that BBMP officials take undue advantage of the fact that these women are illiterate and do not question authority. Officials threaten to mark them absent if anyone dares complain about them, says the post.
Claiming that her mother-in-law might lose her job if her name is revealed, the anonymous post says that, these officials need to be punished and the BBMP should take some steps against this.
However, it must be noted that a few months ago all the pourakarmikas had protested at the BBMP headquarters after no action was taken against the KR Puram contractor Nagesh who was accused of sexual harassment.
 Even after a complaint was registered at the KR Puram Police Station and the BBMP Sexual Harassment Committee not to mention the Guttige Pourakarmika Sangha intimating the Karnataka Social Welfare Department BBMP, all they got were promises from the then mayor Sampath Raj to blacklist him. Everyone is still in the dark about the proceedings.
"Unfortunately, it's a shame that the BBMP has let down all the women who mustered the courage and complained. We were shocked to know that one of the accused was just transferred from the K R Puram ward to another ward," said Committee Member of BBMP Guttige Pourakarmika Sangha Maitreyi Krisnan.
When asked, 39-year-old Jayamma (name changed), a pourakarmika working in Puttenahalli ward said, "I can vouch for at least five women who are being harassed every single day by these BBMP officials."
The Sangha demanded that the BBMP implement the Sexual Harassment of Women at the Workplace (Prevention, Prohibition and Redressal) Act, 2013, in letter and in spirit and conduct an enquiry into the complaints filed.
PTI