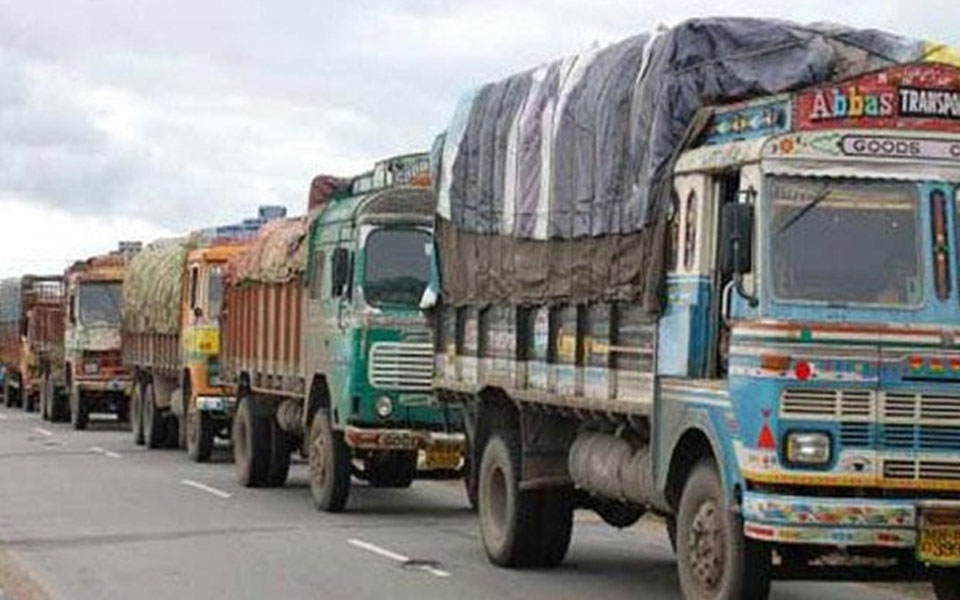 Claiming that about 54 lakh trucks are off the road observing nationwide strike against fuel hike, third party insurance and toll, an association of the goos vehicle operators called their move non-political and last resort after several failed attempts to reach the government.
The All India Confederation of Goods Vehicles Owners Association (AICGVO), a Delhi-based association of over 90 lakh truckers, said that while the big truckers and transport agency are just managing to survive, number of recent changes including fuel price have "killed the small and medium transport businesses".
Talking to IANS, AICGVO General Secretary Kausar Hussain noted that a 1,117 per cent rise in the premium of third party insurance by the Insurance Regulatory Development Authority of India (IRDAI) is killing the transport industry, which is largely owned by small businesses.
For 2018-19, the IRDAI has revised the third party liability insurance for by up to 30 per cent — a hike by 18 to 30 per cent over the existing premium rates.
"ruck or transport business owners get businesses through booking agents who are still offering the same rates while the toll, diesel and insurance premiums are shooting persistently… how will we survive, that the biggest question," he said.
Asked if they had political support, Hussain said that they had received a support letter from the Communist Party of India, but their association and the decision to go on strike is "completely non-political".
"On April 23 we wrote to our honorable Prime Minister, later we wrote to Finance Ministry, Petroleum Ministry and Road Transport Ministry, but received no response… finally we had no other option but call for indefinite strike," he said, adding that the profits of small truckers, who own one to three trucks, had been reduced by more than half.
He added that rising price of spare parts, tyre had already been bothering transport business, on which fuel and insurance tarrif are acting like "salt on the wounds".
According to AICGVO, the maximum support for the strike has come from West Bengal, where they claim over 90 per cent of truckers have decided to go off the road.
While AICGVO called for indefinite strike from Monday, another nation wide organisation — All India Motor Transport Congress (AIMTC) said that it will observe strike from July 20 on the same lines.
"There are number of reasons for going on strike but our demands are focused on three of them, which are rising fuel price, toll and third party insurance… strike is not always welcomed as it affects out business, but we had no other option," its Secretary General Naveen Kumar Gupta told IANS.
AIMTC says that the transport sector in India is completely unorganised which is the "reason for its exploitation".