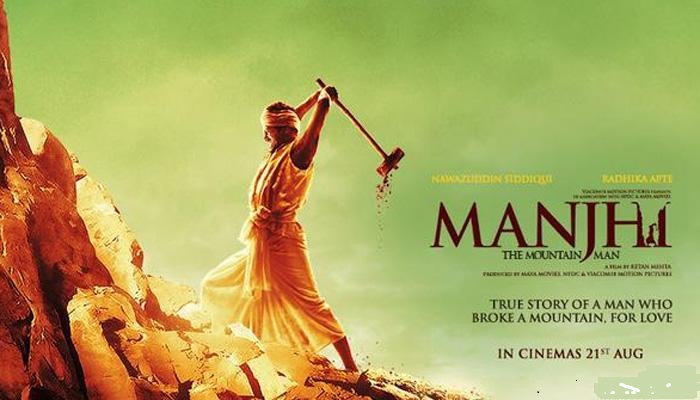 Banner: Viacom 18 Motion Pictures & NFDC India
Producers: Nina Lath Gupta & Deepa Sahi
Director: Ketan Mehta
Cast: Nawazuddin Siddiqui, Radhika Apte, Tigmanshu Dhulia, Gaurav Dwivedi et al
Director Ketan Mehta's last colourful outing was the Randeep Hooda starrer 'Rang Rasiya' which had fetched critical acclaim galore. He is more Known for delivering gems & milestone movies in his career. Ketan has now come up with an out of the world movie like 'Manjhi – The Mountain Man', an Indian biographical film, based on the life of Dashrath Manjhi, who was widely known as the "Mountain Man".
The plotted scenario starts off with a 'conversation' between Dashrath Maanjhi (Nawazuddin Siddiqui) and a humongous mountain, in which he cries his heart out before the mountain with all the aggression. The 'heat' of his conversation is so much that it (quite literally) sparks off a fire. The story then gets into a flashback mode wherein it shows all the events that lead him to the present day situation. The flashback shows Dashrath, who hails from a totally backward class, getting married to Phaguniya (Radhika Apte) during childhood itself. Because of his father's inability to pay the debts, he plans to leave Dashrath with the village's merciless Mukhiya (Tigmanshu Dhulia) as his domestic help. But the self respecting Dashrath bites off his father's hand and runs away from the village itself…….only to return after a gap of 7 long years. While he sees that things haven't changed much in the village in terms of progress, his love life blooms the very moment he sets his eyes on Phaguniya. His joy knows no end when he discovers that Phaguniya is no one else but the same girl whom he had got married to in his childhood. After all the drama that takes place because of his unemployment, Dashrath & Phaguniya run away from the 'clutches' of their parents, only to live a peaceful life forever. Dashrath loves her so much that his life becomes impossible without her. After the delivery of their 1st child, Phaguniya conceives for the 2nd time. The dutiful wife that she is, she climbs the hilly mountains to bring lunch for Dashrath, who works incessantly in order to give his family a happy life. One day, pregnant Phaguniya, while climbing the hills, slips from there and passes away after delivering her 2nd child. Unable to bear the grief of the sudden death of her wife, Dashrath feels that the hilly 'egoistic' mountains are the killers. In order to teach these mountains a lesson that they will never forget, he starts cutting them with an axe…….all single handedly.
Producers Viacom 18 Picture & NFDC deserves kudos & full marks for backing Ketan Mehta's courageous act of coming up with such realistic docu drama as 'Manjhi – The Mountain Man'.
Nawazuddin Siddiqui & Radhika Apte have delivered a very heart warming & flawless performance. The rest of the film's characters in the form of Tigmanshu Dhulia, Pankaj Tripathi, Gaurav Dwiwedi et al, offer their support in taking the film to its well deserving climax. A special mention must be made of Deepa Sahi, in a cameo, who is perfection personified.
Tail Piece: 'Manjhi – The Mountain Main' is a once in a lifetime made par excellent film albeit which will appeal mainly to art house cinema lovers.