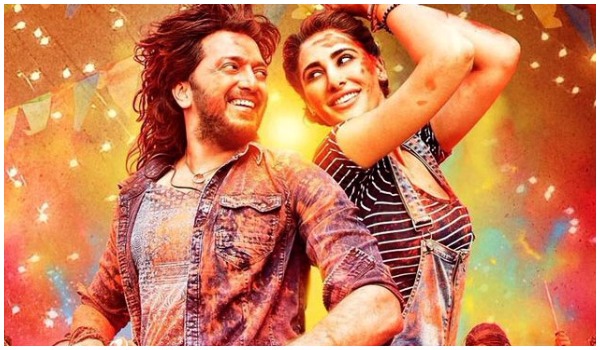 Banner: Eros International
Producer: Krishika Lulla
Director: Ravi Jadhav
Starcast: Riteish Deshmukh, Nargis Fakhri, Dharmesh Yelande, Aditya Kumar, Ram Menon, Mahesh Shetty, Luke Kenny, Mohan Kapur et al
Music: Vishal–Shekhar
Ravi Jadhav, the well – known director of Marathi Cinema, now makes his debut in Bollywood. The conception of the story is good and the film could have turned out to be a good musical entertainer. But alas it was not to be so.
The scripted scenario of Banjo kickstarts with film the "musical introduction" of the Mumbai based Nandkishore aka Taraat (Riteish Deshmukh), an extraordinary banjo player who also doubles up as an extortionist for the sake of earning extra money. His Banjo band consists of 3 (part time) members named Grease (Dharmesh Yelande), Paper (Aditya Kumar) & Vaaja (Ram Menon). On the other side of the globe (New York, to be specific), exists an aspiring & spunky DJ Chris (Nargis Fakhri), who wants to enter a prestigious music championship. While she is searching for the right music as her entry in the championship, her Mumbai based friend (Luke Kenny) helps her by sending a recording of Taraat's banjo performance during Ganeshotsav festival. Totally impressed by Taraat's mesmerising tunes, Chris reaches Mumbai, in order to search for Taraat and his talented team members, as she wants to collaborate for a song with them as her entry in the music championship. In no time, Taraat unknowingly becomes Chris' guide & friend in Mumbai. And while, doing so, he gradually falls in love with her. At the same time, Taraat and his gang refrain from revealing to Chris that they are banjo players, fearing insult & rejection from her. What they don't realise however is that it is in search of their band for whom Chris has especially flown down to India. One fine day, when Chris gets to know about Taraat and his Banjo band, her happiness knows no bounds and she immediately starts jamming with them for her songs. Amidst all this, an unfortunate incident occurs that completely changes the lives of Taraat, his band members & Chris as well.
Director Ravi Jadhav's directorial skills have gone awry because of the poorerst writing skills of Ravi Jadhav himself in tandem with
Kapil Sawant & Nikhil Mehrotra. Need I say anything more?
Performance wise Ritiesh Deshmukh has really worked wonders by literally getting into the skin of the character. Just watch out for his new avatar of a Banjo player dwelling in the grimy slums in lieu with his side job as a tapori extortionist and then he also showcases one more side of his as a silent lover. On the other hand, Nargis Fakhri delivers a convincing performance. The next in line superb performance comes from Luke Kenny in a believable role of a street smart musician. Some of the other actors like Dharmesh Yelande as Grease, Aditya Kumar as Paper, Ram Menon as Vaaja & Mahesh Shetty as Pakya are too good to be true.
Tail Piece: Banjo can very well be termed as an arty film lover's delight and should be promising enough for the global film festival circuits. But its commercial prospects at the Box Office turnstiles are very bleak.