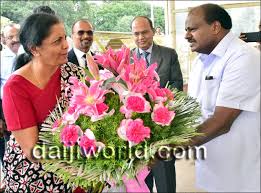 In a quid-pro-quo, Defence Minister Nirmala Sitharaman on Saturday agreed to transfer 210 acres of defense land in Bengaluru to the city's civic body for 10 infrastructure projects, stuck due to space constraints, an official said.
"The Karnataka government has, in turn, agreed to transfer its lands of equal value (Rs 322 crore) and size to the defense ministry in lieu of defense lands in 31 locations," a joint declaration hereby Sitharaman and Karnataka Chief Minister H.D. Kumaraswamy said.
The infrastructure projects requiring defense land include road widening works,
flyovers, elevated corridors and the second phase of the Metro Rail network across the city.
"The city's explosive growth over the last two decades has out-paced the development of commensurate infrastructure, resulting in choc-o-bloc vehicular traffic, congestion, pollution and woeful civic amenities," the statement said.
Though Sitharaman belongs to neighboring Tamil Nadu, she is a Bharatiya Janata Party (BJP) Rajya Sabha member from Karnataka.
"The city's fast growth has led to the urgent need to upgrade its basic infrastructure, including roads, flyovers, bridges, underpasses and elevated roads to avert traffic jams and ease congestion," admitted the declaration.
Sitharaman also directed the defence officials to hand over the lands to the city civic body at the earliest so that construction and development of the projects are not delayed.
"We will wait for the state government to transfer its land to us but not delay the projects for want of our (defence) lands," noted Sitharaman.
The defence ministry agreed to swap its land in public interest as they were required for 10 infrastructure projects.
Defence land for 8 of the 10 infra projects will be permanently transferred to the Bruhat Bengaluru Mahanagara Palike (BBMP) and permission will be given to use the remaining land for 2 road-over-bridge (ROB) projects on license basis.
A joint task force with officials from the defence ministry and the state government will be set up to resolve issues related to the land swap and use.
Sitharaman also advised the Chief Minister to get a cabinet resolution passed to ensure the defence requirements in lieu of parting with its land in the interest of public infrastructure works was compensated adequately in a time frame.
The state government has agreed to this.