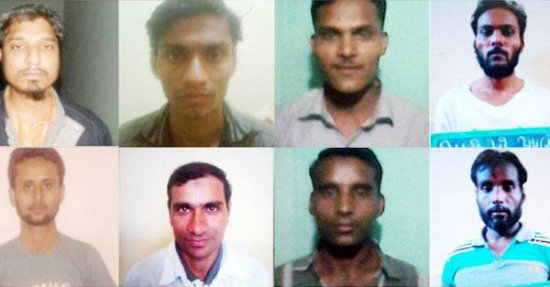 Bhopal: All alleged eight SIMI activists, who earlier today allegedly fled from Bhopal Central Jail, have been killed in an encounter on the outskirts of Bhopal, according to reports.
Madhya Pradesh Home Minister Bhupendra Singh said all 8 alleged SIMI activists, who allegedly escaped from jail, killed in police encounter at Malikheda near Bhopal.
A high alert had been sounded following the alleged jail break, even as the Union Home Ministry sought a report from the Madhya Pradesh government.
While escaping the SIMI activists also allegedly killed security guard Ramashankar Yadav by slitting his throat, the police said.
"Eight inmates related to the SIMI escaped from Bhopal Central Jail between 2 to 3 a.m. today. They used their blankets to make a rope and crossed the bigger wall of the jail. They also killed one security guard Ramashankar Yadav. All of them were accused of various crimes such as bank robbery, murder, and sedition. Search operations are on to nab them as soon as possible," Bhopal Inspector General of Police Yogesh Choudhary told reporters.
According to a police officer posted in Bhopal, the SIMI men "overpowered" two security guards who were exchanging their shifts at around 3 a.m.
According to some unconfirmed reports, six out of the eight escaped SIMI activists were identified as Sheikh Mujeeb, Muhammad Khalid Akil, Jakir Hussain Sadiq, Mohammad Salik, Mehaboob Malik and Amjad Khan. Three of those who escaped from Bhopal jail are the same who escaped from Khandwa prison in 2013. They were later caught by the Telangana police.
This was the second alleged jail break by alleged activists of banned SIMI in three years after the sensational escape by seven members of the group from a jail in Khandwa in Madhya Pradesh in 2013.
(Agencies)