Two online fraudsters who were duping wealthy businessmen on the pretext of offering them a business partnership in international companies were arrested by the city cyber crime police.
The accused – Aakash V. Goni (39) a resident of Mira Road, Mumbai and his associate Surendra Rangad Puran (42) of Jogeshwari, Mumbai – posed as foreigners and top executives of veterinary healthcare companies in the US and Canada to trap the businessmen.
The city cyber crime police got involved after a city-based businessman lodged a complaint, saying Aakash and Surendra cheated him in the name of the partnership and swindled him of Rs 30 lakh in September last year.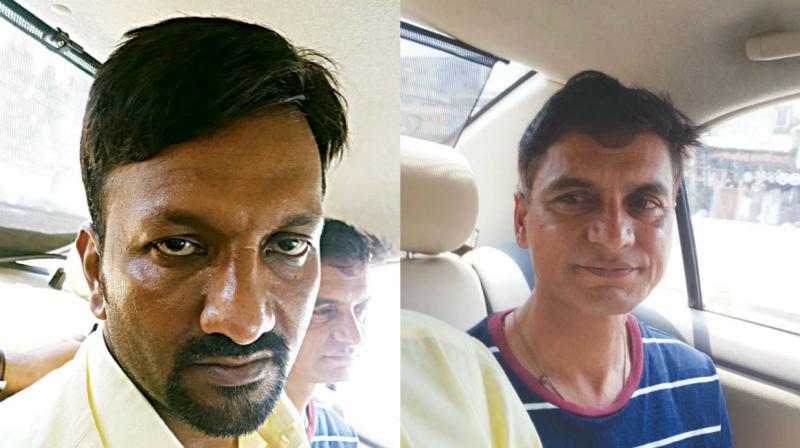 After registering the complaint, the police managed to trace and arrest the accused after seven months of investigation. The police have recovered a car and four mobile phones worth Rs 3 lakh from them.
The businessman then contacted the accused and explained to them about the deal, to which the accused told him to go ahead. He then met the accused who had offered the chemical and struck a deal for Rs 30 lakh. The accused asked the businessman to deposit the amount into a bank account after which he said the consignment would be dispatched.
But once the businessman deposited the amount, the mobile phone of the accused was switched off. That was when the businessman realised that he was being swindled and filed a complaint with the cyber crime police.
The call detail records and bank account details of the accused helped the police trace them in Mumbai. Based on their inputs, their gang members – Chethan Dharma (29) from Rourkela in Odisha, Shamim Ahmed (36) from Devariya district in UP, Tubudi Mukadi Jean (25), a Congo national, who was staying in the city on a student visa, and his associate Philip Opeyemi (30) from Nigeria, who was staying in Kalyan Nagar on a student visa, were also arrested.
The police said that the accused are part of an online racket and have several bank accounts which they use to transfer money from one account to another. The accused Aakash's father was a Kannada film director and producer, the investigation revealed. The police now suspect that the accused might have duped many more such gullible businessmen using similar tactics.