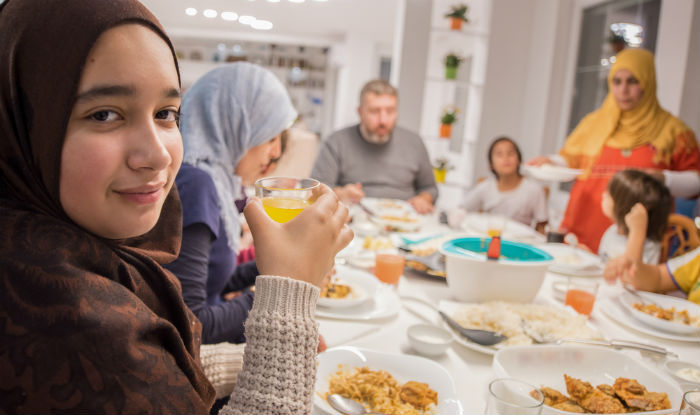 by Hajeera Zameer
"And spend in the way of Allah and do not throw [yourselves] with your [own] hands into destruction [by refraining]. And do good; indeed, Allah loves the doers of good."
Qur'an (2:195)
I am sure you were planning for good health and maintenance all this while but you never got that external support so u never started up, Monday goes and another Monday comes.
But here you go with tremendous support of this special month RAMZAN…buckle up to make your body healthy and remember let your intention (niyat ) be for the sake of ALĹAH.
Do not have the fasting  intentions of loosing weight or dieting during this month, as Allah knows better . But being healthy or getting good health for the sake of ALĹAH is another accountable task in Ramzan for which every Muslim can be rewarded.
As a DIETICIAN i want  to give you a guideline in brief .
First meal of the fasting day: SUHOOR ( sehri) – this is a simple breakfast, eating full and nonstop in Sehri assuming you might feel hungry in the day or you might feel weak is very wrong assumption. no matter how full u eat ,  body will use stored up fat later the whole day. So think on that point your body needs to be prepared with good energy stores and not just filling stomach.
Let your Sehri include whole grains (barley, brown rice, wheat,oats, rice)
Barley mentioned can be consumed as barley water before tahajud or over the night!!!
millet like( ragi,jowar )
milk product – curd( homemade only)
fibrous vegetables: beans , carrots, cabbage , beetroot , cauliflower.ridge gourd, ladies finger etc
Lentils: chickpeas, kidney beans , soya beans etc
Dals: any.
So by now I'm sure all the readers are offended .. But guess what I haven't spoken about our dearest non veg options.
In every subzi preparation minced meat is certainly used.so keep going.be happy to include those organ parts  in Sehri. Ofcourse it's your breakfast choose king options.but prioritise as above mainly.
Options above are just a few suggestions for you but those are examples of what needs to be included for a healthy sehri. So with those examples you will have a list mentioned in your kitchen.
Do not have thick Gravies  made of coconut and sauces.avoid deep fried or Chinese cookery in Sehri
So moving to the best part of the fast: IFTAAR- when first breaking the fast go for plenty of fluids , low fat, fluid rich foods and choose those foods containing natural sugar for instant energy ( avoid added sugar drinks , many to mention but I cannot mention) with the help of description above be your own dietician.
Hence your IFTAAR includes.
Drinks: water, milk, fruit juice without excess sugar,milkshakes, laban.tender coconut water.
Dates:if I talk about it's advantages even the diabetic patient will start consuming it.dates are advanced form of GATORADE.i can give options for the ones who are restricted by their doctors for consuming dates ( figs, raisins, apricots).
Fruit: many to mention.. just relish .
And now allow those creations of ALĹAH ( fruits)before consuming your creations( other foods) to give you magical powers and health. . So attend your MUGHRIB SALAH.until you read your salah your system inside does beautiful process for your beautiful body and soul. Indeed.
Post MUGHRIB:
I'm sure the IFTAAR table is filled with variety of outside food items, do enjoy but prioritise first as mentioned mainly.
Soup: meat broth, ganji  ( rice , wheat , semolina).
Poha , seviyaan, dalia, sabudana khichdi.
Or have your dinner directly like options as Fish and rice, mutton biryani raita, chicken Korma and Ghee rice, egg curry and paratha.
Let it be a happy ending.!
Keep yourself light and contended as you are supposed to stand for the big namaz of the fasting day.
Isha followed by taraweeh.
Remember the night needs your ibadat… keep sipping as much water over the night. Keep aside a bottle of yours to know it's quantity of consumption.
If you are a tea or coffee lover . Avoid immediately after a meal give a gap of 20 mins to enjoy your tea or coffee.
Until next time…. In sha Allah.
Do remember me in your precious duas.
Hajeera Zameer is a Dietician. She can be reached at: dieticianhajeera@gmail.com