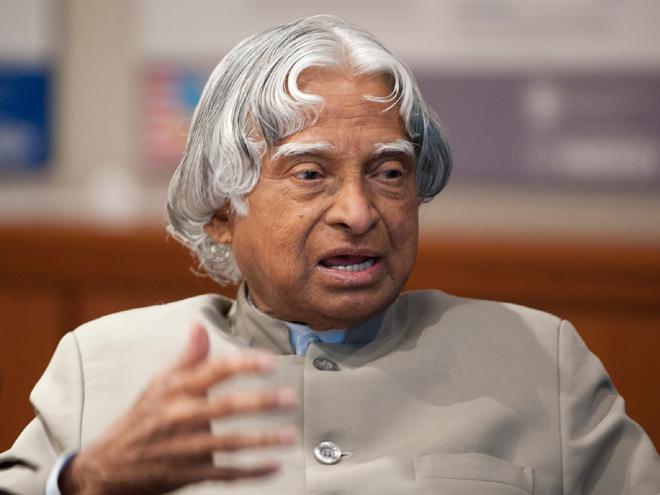 New Delhi: The body of former President A.P.J. Abdul Kalam, who died after suffering a cardiac arrest during a lecture at the IIM-Shillong on Monday, was flown to Delhi early Tuesday morning by a special aircraft.
President Pranab Mukherjee received the body of Kalam. Delhi Lt. Governor Najeeb Jung was present at Palam Airport.
Prime Minister Narendra Modi, Home Minister Rajnath Singh and Defence Minister Manohar Parrikar too were present at Palam airport.
The Army, Navy and Air Force paid their last respects to the mortal remains of the former president.
Kalam's body will be kept at his residence in Rajaji Marg, New Delhi, for public to pay their last respects from 4 pm.
Leaders pay tribute
Several leaders including Chief Minister Tarun Gogoi and senior IAF officials joined in paying tribute to India's 'Missile Man' whose departure has plunged the nation into overwhelming grief.
"It is an irreparable loss to the nation. He loved children, he loved the nation. I have met him many times. I took him to rural areas of Assam. He was a very simple and honest man. Along with India, entire state is mourning his death," Mr. Gogoi said.
Assam Pradesh Congress Committee president Anjan Dutta and other senior party leaders were also present and paid their respects.
State mourning
Wrapped in the tricolour, the casket carrying his body was taken inside the aircraft as a mournful hymn played in the background.
The Union Cabinet is expected to hold a special meeting in New Delhi to condole his death.
The government has announced a seven-day State mourning in honour of Kalam. "As a mark of respect to the departed dignitary, seven days of state mourning will be observed throughout India from July 27, 2015 to August 2, 2015, both days inclusive," an official statement said.
President, PM condole
Condoling Kalam's death, Prime Minister Narendra Modi tweeted, "India mourns the loss of a great scientist, a wonderful President & above all an inspiring individual."
President Pranab Mukherjee said in a message, "In his passing away, we have lost a great son of India who dedicated his entire life for the welfare of the motherland and its people. Mr. Kalam was a people's President during his lifetime and will remain so even after his death."
Parliament pays tribute to Kalam
Paying glowing tributes to former President A.P.J. Abdul Kalam, the Union Cabinet today passed a resolution saying the country has lost "a visionary scientist, a true nationalist and a great son."
The meeting of the Union Cabinet, chaired by Prime Minister Narendra Modi, expressed its profound sorrow at the sad demise of former President of India yesterday in Shillong.
In the resolution, it said, "in his passing away the country has lost a visionary scientist, a true nationalist and a great son".
Both Houses of Parliament adjourned for the day after paying glowing tributes to Kalam.
(Agencies)