Launches its third facility at Sheshadripuram with a strong focus on non-communicable diseases (NCDs)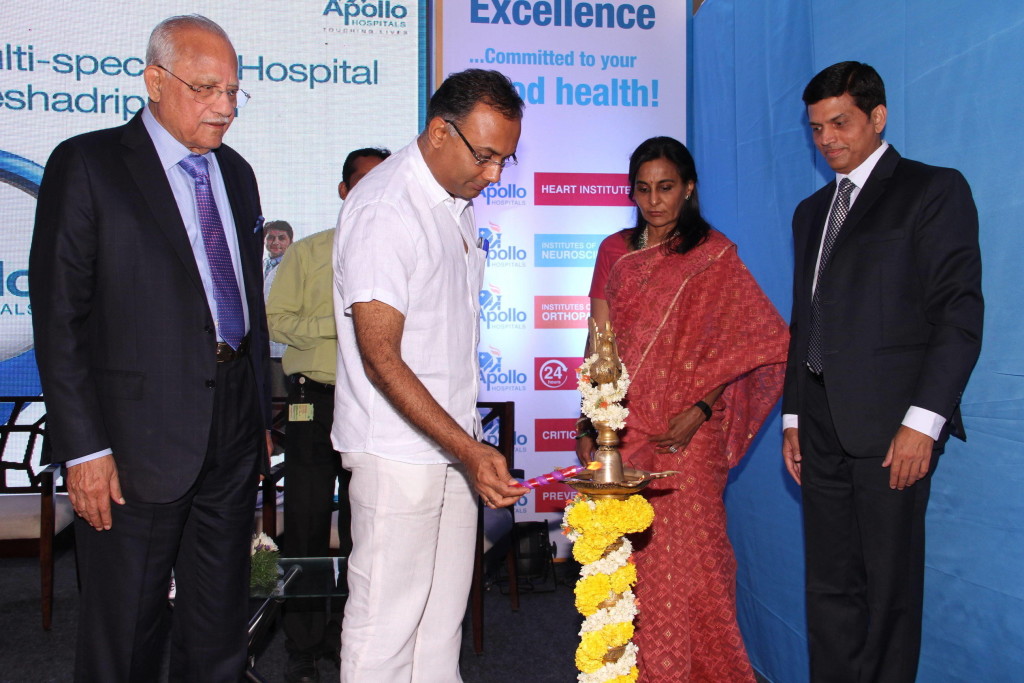 Bengaluru: Apollo Group of Hospitals inaugurated a super speciality hospital at Sheshadripuram in Bangalore today. Present at the inaugural ceremony were Shri UT Khader, Hon'ble Minister for Health & Family Welfare, Govt of Karnataka, Shri. Dinesh Gundurao, Hon'ble Minister of State for Food, Civil Supply and Consumer Affairs, Shri. SIddeshwara G M, Union Minister of State for Small Industries & Public Enterprises, Dr. Prathap C Reddy Chairman, Apollo Hospitals Enterprise Limited, Lt. Gen. Dr. Naresh Parmar, CEO – Apollo Hospitals, Karnataka Region and Mr Ravindra Pai, COO, Apollo Hospitals Sheshadripuram, amongst other dignitaries.
This 200 bed facility developed in 2 acres is their fourth in the state of Karnataka in addition to the ones existing at Bannerghatta Road & Jayanagar in Bangalore and one in Mysore. With this hospital, Apollo continues to keep up with its commitment towards bringing quality healthcare closer and accessible to all. "We started about 33 years back with our first hospital at Chennai and the journey so far has been remarkable. This hospital has been established to address the rapid rise of NCDs that are affecting the population of Bangalore", said Dr Prathap C Reddy, Chairman Apollo Hospitals Enterprise Limited." It is disheartening to see that people continue to suffer from disorders like Heart Attacks, Epilepsy, Stroke and many others diseases despite the fact that timely diagnosis and proper treatment can prevent or cure any disease", he further added.
"India is burdened today by the incidence of NCDs in the form of cancer, Diabetes and cardiac diseases. According to a recent WHO report, these ailments are a leading cause of mortality and account for 60 per cent of all mortalities in India. This effort comes in as an initiative to contribute to WHO's seven year global action plan to prevent and control NCDs", said Dinesh Gundu Rao, Minister of State for Food, Civil Supply & Consumer Affairs, Govt. of Karnataka.
The hospital is well-equipped with latest infrastructure, state of the art technology and a team of specialists to address and cater to the rising need of attention towards non communicable diseases which are on the rise in the state."Particularly in Bangalore, we see about 1200 cases coming to us every month on an average between the age group of 30-40 years. The primary focus of the Sheshadripuram Hospital would be to tackle NCDs that have witnessed a rapid increase in the number of cases especially in the recent years", said Lt. Gen. Dr Naresh Parmar, CEO – Apollo Hospitals, Karnataka Region.
The five specialities that Apollo Hospital Sheshadripuram would focus on are Cardiac Sciences, Neurosciences, Orthopaedics, Medical & Surgical Gastroenterology & General and Laparoscopic Surgery led by a team of experts with combined experience of over 100yrs.