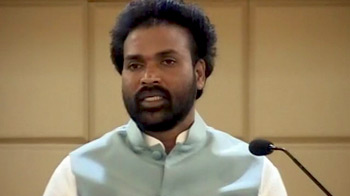 B Sriramulu,Molakalmuru BJP MLA claimed here today that the BS Yeddyurappa led Bharatiya Janata Party government will get majority more than required during the floor test to prove the majority of the government.
He was talking to media persons after BS Yeddyurappa was sworn in as chief minister and claimed:Just keep watching on how we will prove our majority.We will prove majority more than required.
On queries as to how the party will manage the required magic number he parried all questions in this regard and left the place.
It may be recalled here that the very same B Sriramulu along with mining baron Gali Janardhan Reddy were resourceful to the BJP in enabling a simple majority to the BJP government during 2008 by roping in six Independent legislators to the party.Later some more MLAs of other parties were pouched under 'Operation Lotus'.
In the meantime Anandsingh,Hospete Congress MLA and Prathapgouda Patil,Maski Congress MLA have gone missing and the party managers have failed to trace them.Rajasekhar Patil,Humnabad Congress MLA has left the Eagleton resort on the pretext of ill health this afternoon.
Anandsingh was BJP MLA in the previous Assembly.At the fag end of his tenure he had switched sides towards Congress and was re elected on a Congress ticket.Before that he was also arrested by the CBI for mining export scam.
He is a descendant of the Vijaynagar royal dynasty and is said to be close to Rajnath Singh,Union Home Minister apart from B Sriramulu.
In fact B Sriramulu had declared on the counting day itself to BS Yeddyurappa that he will manage the support of four MLAs belonging to other parties but still very good with him.
Prathapgouda Patil,Maski Congress MLA from Raichuru district is also said to be tilting towards the ruling party.He was a BJP MLA during 2008 but did not go behind BS Yeddyurappa to join Karnataka Janata Party(KJP) and instead joined the Congress.He had been a Congress MLA during 2013 and now re reelected on the same party ticket.
Manohar Maski,BJP MLC and B Sriramulu are said to be instrumental in roping him to politics and now the same duo are said to be behind the move of bringing him back to BJP.
Rajasekhar Patil,Humnabad Congress MLA from Bidar district went out of the Eagleton resort this afternoon on health grounds.He's said to have walked till the resort gate where the security staff refused to let him off.But on being told by DK Suresh,MP and KJ George,former minister he's said to have been permitted to go.But whether he'll return or not is yet to be soon.
Hindusthan Samachar/Manohar Yadavatti