Every kilometre of the satellite town ring road (STRR) project of Bengaluru is likely to claim 150-200 indigenous species of trees. Phase-1 of STRR stretching 82.20 km in the districts of Bengaluru Rural and Ramanagara will result in the felling of 12,300 to 16,400 trees.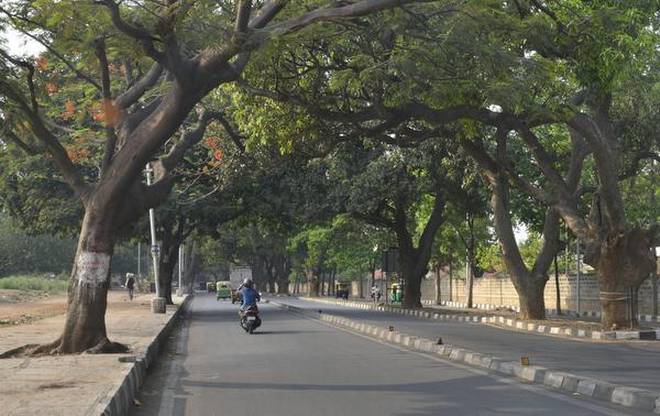 The project will not only involve felling of trees on a massive scale but also impact two protected areas, two elephant corridors and wildlife in an eco-sensitive zone. The expert appraisal committee of the Ministry of Environment and Forests, which deals with infrastructure projects, has recommended the preparation of an environmental impact assessment report. The panel also stressed the need for public consultations.
The expert committee has further said that the proposed stretch from Bengaluru to Ramanagara is highly sensitive from the ecological point of view. The committee is constituted of a four-member sub-committee headed by chairman Deepak Apte, Director, Bombay Natural History Society. The sub-committee visited the project site on July 23 and 24 and submitted a report with recommendations, including mitigation measures to protect flora and fauna.
What the committee found
As per initial assessment, it is anticipated that on an average 150-200 trees are likely to be affected per kilometre. The detailed assessment of actual trees to be felled will be undertaken during the environmental impact assessment study. Common trees including Ficus, Tamarindus indica, Eucalyptus, Azadirachta india and Acacia catechu, and a host of other native species are likely to be felled on the 82km stretch.
However, the report claims that efforts will be made to minimise the tree loss. Also, avenue plantation shall be carried out as part of compensatory afforestation programme.
Opposing the project, urban conservationist Vijay Nishanth said, "Precious tree cover will be lost. We are asking for decongestion of Bengaluru and not adding to its problems by proposing such road projects that will only promote environmental damage. Till date, there has been no proper compensatory afforestation for any project. Further, no proper public consultations have been held whether for the Metro project or any other infrastructure project. So how will another consultation make any difference?"
Phase 1 STRR
Phase 1 of STRR is from Dobbspete to Ramanagara running a length of 82km. The total project will cover 179.9 km in Karnataka and TN. It will start from Obalapura village in Nelamangala taluk and end at Kailancha village in Ramanagara taluk.
Land acquisition of 785 hectares
This project is being implemented by NHAI under the Bharatmala programme. Involving land acquisition of 785 hectares for phase 1, the project passes through agricultural and forest land. There are 22 major settlements along the alignment in Phase 1.
Express News Services