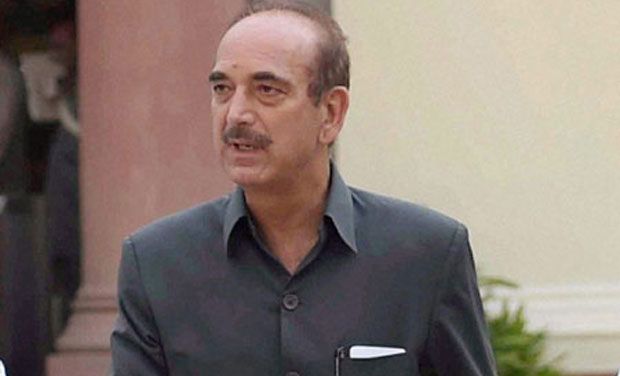 New Delhi: The Congress Party on Saturday lashed out at the Bharatiya Janata Party (BJP) allegations of coining the term 'Hindu terrorism', saying that Home Minister Rajnath Singh is quoting the ex-UPA home minister Sushil Kumar Shinde's comment 'out of context' and also alleged that the BJP Government was polarising the nation in the name of religion.
"The comment of the then Home Minister is being quoted out of context. It is a deliberate attempt on the part of the government, it is the deliberate attempt on the part of the BJP, it is the deliberate attempt on the part of Home Minister, for various reasons- to divide the country, to take up the debate between two religions, to divert the attention of the people from its failure to effectively counter the threat of terrorism, to abuse and to use the parliamentary forum, to abuse and defame its opponents, particularly the Congress Party," Congress leader Ghulam Nabi Azad told the press conference.
"Congress Party has always been against terrorism, be it Jammu and Kashmir, Punjab, north eastern states or the states sharing borders with our neighbours. We have seen our sitting Prime Minister Smt. Indira Gandhi martyred to terrorism. We have seen the death of Ex-Prime Minister Rajiv Gandhi at the hands of terrorists. We have seen many leaders, MLAs, MPs, etc losing their lives to extremism and terrorism. But BJP does not need to lecture us," he added.
The former Minister of Health and Family Welfare insisted, "I would like to say that since this BJP Government has come into power, there is so much polarization in the country, across the country. Even in Jammu and Kashmir, there might have threat of terrorist, there might have been terrorism, but there was never a polarization. The moment BJP became part of the coalition government, the polarization in a big way has hit Jammu and Kashmir."
Earlier, hitting out the Congress, the Home Minister said the term 'Hindu terrorism' coined by the previous UPA government had weakened the fight against the scourge by diverting the direction of probe into the incidents of terrorism.
(ANI)