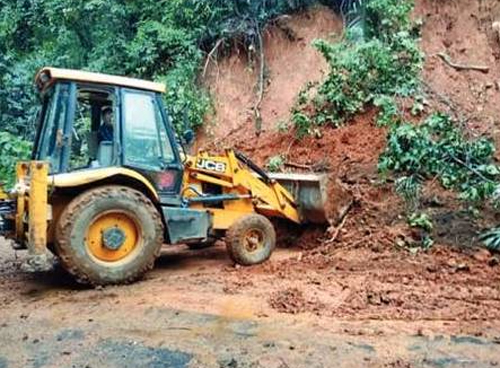 Landslides experienced at four more road bends on Charmadi Ghat section of the highway on account of heavy rainfall on Wednesday June 13 have put further burden on road clearance and restoration work that is currently on. The road as of now continues to pose danger and is currently out of access for vehicles.
The forest department has launched an operation to clear the trees which have fallen across the road and those which are precariously positioned near the road. On Wednesday 13, backhoes worked relentlessly to make the route roadworthy again. Officials of national highways authority and revenue department visited the spot and inspected the progress of ongoing work on Wednesday.

So far, landslides have been experienced in all the 11 road bends of Charmadi Ghat. The hillock crashed on the road on third fourth, sixth, seventh, and ninth bends. In the sixth bend, the protective wall built to stop landslide has been crumbling and its stones are falling apart one by one, giving rise to safety concerns. In the eighth bend too the protective wall is showing signs of crashing. Although backhoes worked day and night on Tuesday, their work at night has been made impossible because of risk factor posed by a huge mound of mud which got deposited on a backhoe on Tuesday night. If the rainfall continues unabated, the road might become unavailable for several days at a stretch, locals fear. As per the current estimate, clearance work might be completed by Thursday evening unless unexpected exigencies are encountered.
Police have been stopping and diverting vehicles entering the ghat section at Ujire. However, some vehicles have been taking alternative routes but they too were blocked at Charmadi Ghat. Over 50 trucks could be seen queued up at this gate. Officials have been arranging for these vehicles to turn back.
National highways authority's Mangaluru division official, Subba Rao, taluk executive officer, Basavaraj Ayyannavar, PWD executive engineer, Shivaprasad Ajila, and other officials visited the spot to take stock of the situation. Puttur assistant commissioner, Krishnamurthy, said that a final decision will be taken after reviewing the situation on Thursday.
In the meanwhile, hillock slid down and got deposited on the highway near Joginamath adjacent to Jog Falls on national highway 206 between Honnavar – Tumakuru – Bengaluru. The hillock crashed at 5.30 am on Wednesday, bringing along several trees with it. As a result, vehicular movement was blocked for four to five hours.