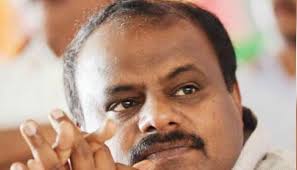 It is learned that Karnataka CM, H D Kumaraswamy, who has been tired by the impedance by his father and brother in each aspect of the governance, has told them that their habit of poking nose in all governmental issues is unwelcome.
Kumaraswamy is learned to have spilled out his sentiments in front of his closed ones in which he disclosed that he rose to be the Chief Minister of Karnataka under peculiar conditions and that he has been experiencing pressure from Congress on different issues. He wonders how he can work if relatives too try to have their say in all parts of the government.
Sources expressed that the CM told his brother H D Revanna, and father, H D Deve Gowda, that he doesn't need the interference of his family members, brothers and all others in the governmental affairs and that he must be without given free hands in these issues.
It is learned that after Kumaraswamy won the trust vote in the assembly, Deve Gowda had held meetings with the chief secretary of the administration, K Ratna Prabha, additional chief secretary, Laxminarayana, director general of police, Neelamani N Raju, city police commissioner, T Sunil Kumar and others. At the point when Kumaraswamy held meetings of officials from departments of horticulture, agriculture and so forth in the Vidhana Soudha, Revanna had assembled a meeting of Karnataka Milk Federation despite the fact that he isn't associated with it. In addition, when Kumaraswamy was tending to a press meet, Revanna had intervened, which had raged Kumaraswamy.
By virtue of these reasons, Kumaraswamy has advised his family members to stay away from things with which they are not concerned with, reports expressed.