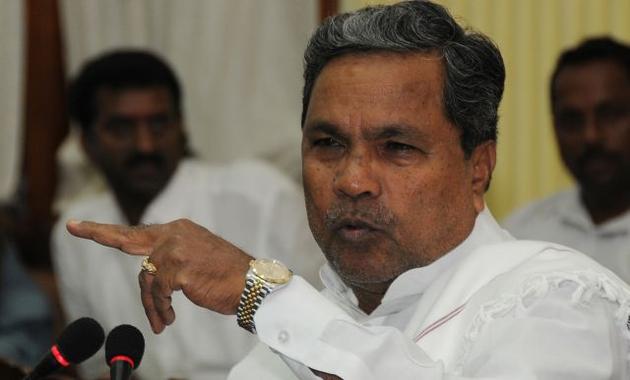 Bengaluru: After making a statement that the expensive wrist watch that he used to wear until recently was a gift, Chief Minister Siddaramaiah appears to be in a soup.
According to the Income Tax Act 1961, a person has to pay tax if he or she receives a gift costing more than Rs 50,000. However, tax exemption can be availed if the gift is from one of the family members.
It is said that now Siddaramaiah has to prove whether he has paid the tax if the expensive watch was a gift from a friend or "somebody" else. If it is within the family, he must have the bill. Spouse, brothers and sisters of one's parents, one's lineal descendants (including spouse) and lineal descendants (including spouses) of one's spouse come in the bracket of family members according to the Income Tax Act.
Even if the gift is within the family, taxmen normally verify the source of money for the purchaser, official sources in the I-T department said.
JD(S) leader H D Kumaraswamy has been claiming that the chief minister's watch was a diamond-studded Hublot costing a whopping Rs 60 lakh to Rs 70 lakh.
Besides, he charged that the chief minister's sunglasses cost Rs 1.5 lakh and claimed that he had proof to substantiate his charges. But Siddaramaiah has been dismissing the charges as not true and offered to sell them to the JD(S) leader at Rs 5 lakh if he was ready to buy them.
It is however not clear whether Siddaramaiah has declared having received these expensive gifts in his affidavit of assets and liabilities before the Karnataka Lokayukta.
Public servants have to file the affidavit every year according tothe Karnataka Lokayukta Act. And the chief minister has not revealed as to when he received the gifts. However, the details have not been made public.
Sources in the JD(S) said the party would soon come out with more details as to when and who gifted the watch to Siddaramaiah.
The JD(S) had released a video clipping of Siddaramaiah sporting the watch when he visited former MP H?Vishwanath at a hospital in Mysuru.
According to party sources, Siddaramaiah visited the hospital about 8 to 10 months ago. But the watch he offered to auction was a gold watch and not the diamond-studded watch.
(Agencies)