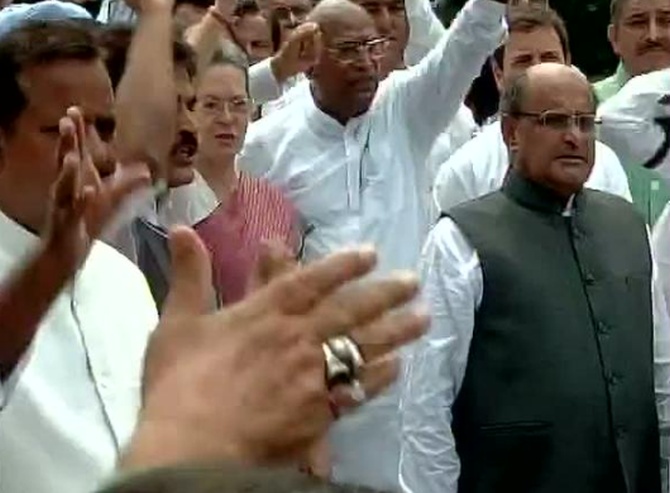 New Delhi: Congress top brass Sonia Gandhi, Rahul Gandhi and Manmohan Singh and leaders of six other opposition parties today staged a dharna in Parliament complex for the second day today in protest against suspension of its MPs.
Sharad Yadav and K C Tyagi of the JD-U, Dharmendra Yadav of the Samajwadi Party, Jaya Prakash Narayan Yadav of the RJD, P Karunakaran of the CPI-M, D Raja of the CPI and E Ahamed of the IUML were among other political party leaders who participated in the protests.
The Congress chief vociferously raised slogans along with other protestors denouncing the Narendra Modi dispensation.
"End dictatorship", "Prime Minister break silence" "Where the "Achhe din" have gone", "Sushma Swaraj resign", were among the slogans raised by the protestors who also carried black flags.
"We will continue the agitation tomorrow", Sonia Gandhi told reporters. The Congress leader said she was not aware of any proposal from the government to end the logjam or for revocation of the suspension of the 25 Congress MPs.
Congress Vice President Rahul Gandhi said, "We have not liked the LS Speaker's decision on suspension of Cong MPs but we respect her position".
(PTI)