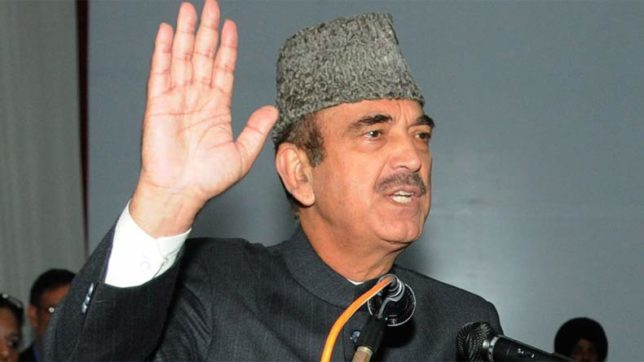 The Congress on Tuesday ruled out the possibility of a coalition with the Peoples Democratic Alliance (PDP), making Governor's rule look imminent in Jammu and Kashmir after the BJP pulled out of the PDP-led coalition government.
Reacting to the development, senior Congress leader and former J& K Chief Minister Ghulam Nabi Azad said the question of an alliance with the PDP "does not arise".
"Whatever has happened is good. People of Jammu and Kashmir will get some relief. They (BJP) ruined Kashmir and have now pulled out," Azad said.
He stressed that the question of Congress forming an alliance with PDP "does not arise".
Congress spokesman Randeep Singh Surjewala pointed out that in the last four years, 373 security personnel and 239 civilians have been killed in Jammu and Kashmir due to heightened militancy.
What did the nation get out of this?" Surjewala said in a tweet.
Delhi Chief Minister Arvind Kejriwal pointed out that the Modi government had claimed that demonetization in 2016 had broken the back of militancy in Jammu and Kashmir but that did not seem true.
"Didn't BJP tell us that demonetization had broken the back of terrorism in Kashmir? Then what happened?" he asked.