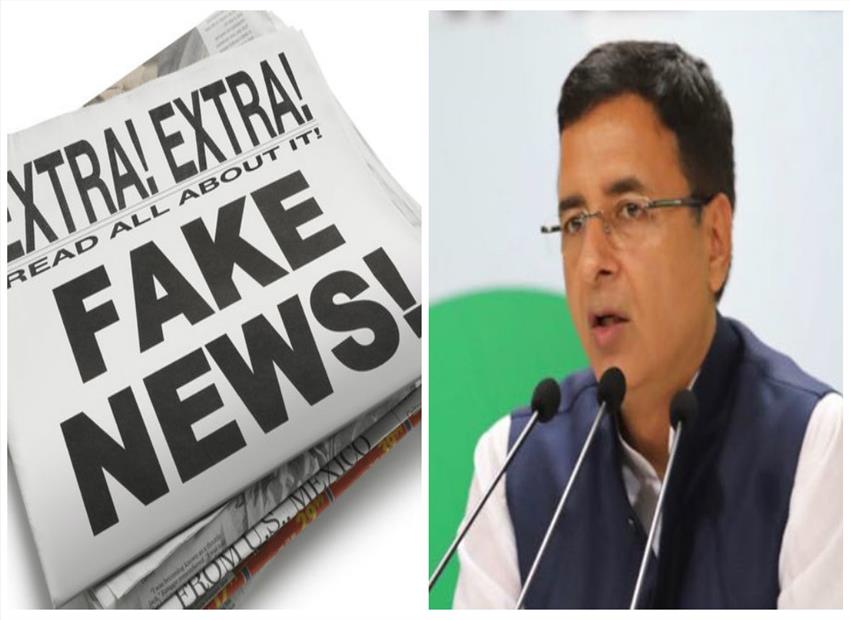 Congress spokesman Randeep Singh Surjewala on Friday sought the Centre's attention towards the menace of fake news circulating on social media that maligns the image of reputed persons.
"Modi Govt needs to crackdown on this 'Fake News Factory' that is unleashed on SM (social media) by BJP supporters. Lies and photoshop driven fakery are being spread that violate 153 A, 295 A, 500 and 505(2) of the IPC (Indian Penal Code)," Surjewala tweeted.
Through his tweet, the leader also urged Union Home Minister Rajnath Singh to curb the peril.
"Hope @HMOIndia and @DelhiPolice under Rajnath Singh ji will act against culprits."
Surjewala's remarks come after Indiaflare.com published a manufactured quote attributing to the Congress leader.
It said: "Mohammed Irfan (Mandsaur rapist) cannot be considered a rapist because Islam permits the rape of women from other religion. He should be released."
This was the same narrative pushed by the fake news website in its article on 'Muslims demanding the release of Mandsaur rapist', Surjewala said.
He said the fake quote was shared on "Join and Support PM Modi 2019" by one Anurag Tiwari, whose account seems fake as there is no activity on the profile.
It has more than 500 shares, added Surjewala.
Earlier, another Congress spokesperson Priyanka Chaturvedi was misquoted in a fake news circulated on social networking sites and then threatened along with her 10-year-old daughter through a vicious message posted by a person, now in police custody, on his Twitter handle.