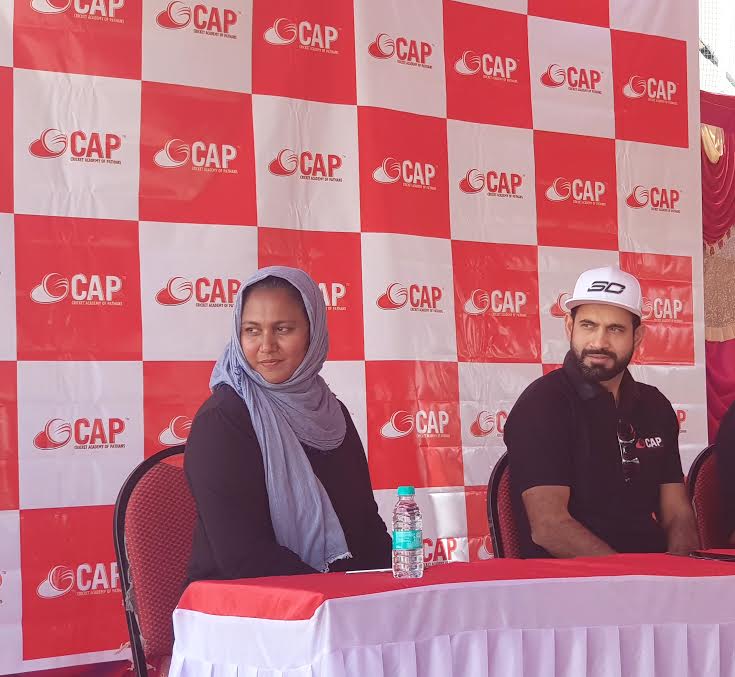 Swing it like Irfan as the ace cricketer's 'Swing clinic', Cricket Academy of Pathans (CAP), opens its door to mould the next generation of India's bowling superstars at its first cricket coaching centre in the South, in Bangalore on Saturday, February 17, 2018. The 10th academy of CAP was launched with ace cricketer Mr. Irfan Pathan at a press conference held at the academy located at Haralur Road here today.
The CAP will provide budding cricketers an ideal platform to hone their skills, while rubbing shoulders and playing along with some of the biggest names in the global arena. With the right techniques and guidance from expert coaches, the Pathan brothers-Irfan and Yusuf launched these academies 2 years back to return their love for the game.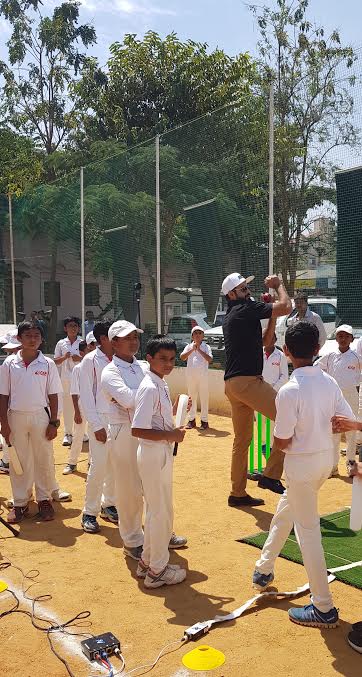 "Cricket is 80% mental and 20% physical," says superstar cricketer and CAP director, Irfan Pathan.
"We have no dearth of talent in India. It's just that they need to be mentored, trained and guided in the right direction. Our coaches work with chosen players to offer personalised and specialised mentoring to develop techniques that help build confidence and self-belief. So that when you take your guard or mark your run-up in the big arena, you feel right at home," said Mr Pathan.
The academy caters to both boys and girls- from age 6 to 21. There are various coaching modules starting from introductory module and goes up to 7 modules and each module has effectively a duration of 4 months. There is special emphasis on Sports Science including talks on nutrition and diet plans given to each student. The academy also has on its panel physiotherapists and psychologists catering to the requirements of the students.
Irfan Pathan also batted and bowled to the students and interacted with the parents. Interacting with the parents, Irfan Pathan shared parents shouldn't put too much pressure on their children and should let them free so that they can fly and do well in the path they choose. He also emphasized on how sports make you a better person and losing games helps one learn new things and be more confident in their chosen sport.
The CAP, manned by cricketing legends and renowned coaches like Greg Chappell, Cameron Tradell and Arun Bharswaj, promises to be a technology-driven approach to cricket excellence. The 'Cricket Academy of the Pathans' is powered by 'PitchVision', a state-of-the-art cricket coaching technology developed in the UK, which helps the Pathan Brothers and their team of cricket coaches to track the overall progress of players on a day-to-day basis. This innovative technology will aid coaches and provide a comprehensive data of every ball played on its unique digital platform www.pitchvision.com/CAP along with a mobile phone app which will allow the students and parents to communicate with Pathan brothers and coaching staff and also get access to coaching materials via videos TV channels.
"It's an honour to be part of CAP that provides a great platform for our budding champions. We are happy to open the first campus in South India in Bangalore, in the green fields of Sarjapur," said Farheen Zohra, Director, CAP, Bengaluru.
"To start off, we have two great coaches. Mr. Nitin Kumar, who played for Under 19 National Games and Mr. Kranthi Kumar, who played for JNT University and is a Level-1 NIS qualified coach. Kranthi Kumar has also completed Australian Cricket Coordinator Course. With such a great playing IX, we hope to deliver the best coaching available," said Farheen Zohra.
The CAP Program has set focus each week with varied outcomes depending on the ability level of the participants. CAP programs are a holistic approach to developing cricketers. The required mental approach, game knowledge and experience, is just as important as the physical skills. The CAP program creates intrinsically motivated players who thrive on competition and who understand there are consequences to actions," shared Mr. Harmeet Vasdev, Managing Director, CAP.
The CAP coaching programme is designed to harness not just the cricketing skills of upcoming players but also inculcate nutrition, fitness and a 360-degree approach to enjoying a healthy lifestyle, both on and off the field. The nutritional experts will design diets and fitness regiments based on the individual strengths of the upcoming champions. The Bangalore chapter of the CAP cricket academy boasts of 2 cement pitches, 1 turf pitch for the nets and also a Mat Pitch. However, the individual focus of the CAP programme means that seats on the Playing IX will be limited so as as it gives more opportunity for the coaches to train each student separately and analyse the strengths and weakness of each and every player.
Cricket Academy of Pathans plans to open 20 more new academies in different cities of India by mid next year. Currently CAP has presence in nine cities including Raipur, Port Blair, Noida, Lunawada, Surat, Sonipat, Rajkot and Delhi and will soon be launching in Patna, Pune, Kota, Indore and Hyderabad.
About Cricket Academy of Pathans :
Cricket Academy of Pathans is an institute born out of a simple thought of 'giving back'. Moulded by the experience of Pathan Brothers who famously donned India colours, the Academy is all set to revolutionise the standards of coaching and development of cricket in India. After their notable contribution over the years to Indian cricket, the Pathan Brothers now intend to eradicate the one major hurdle in the path of churning out talented cricketers from India— lack of proper coaching. Since only the best can turn out the best, CAP also has on board, cricketing legends like Greg Chappell and Cameron Tradell as the chief mentors.
To strengthen the 'backbone' of cricket, coaching, CAP has designed two modules: 'Coaching the Coaches' and 'Coaching the Kids' to help the system at two levels. While the academy will train the coaches and fine-tune their craft, these coaches will in turn train aspiring kids. Both Mr Chappell and Mr Tradell have curated the CAP curriculum, which lays emphasis on nutrition and the physical development of the kids, providing a wholesome training experience. Armed with a strong curriculum and some of the best names of the cricketing world, the Pathan brothers promise to polish the future of the Indian Cricket with their ground-breaking initiative.