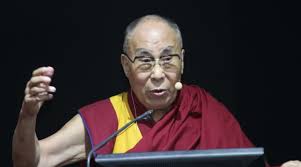 Tibetan spiritual leader, the 14th Dalai Lama, will arrive in Bengaluru on August 9 and take part in various programmes organized by the Tibetans living in the state up until August 12.
The Dalai Lama will be received by the general public at Hotel Conrad, Halasuru, on Thursday morning. On August 10, he will preside over 'Thank You Karnataka Day, a programme organized by Tibetans living in the state, at the Taj West End hotel, the organizers said.
Chief Minister H D Kumaraswamy will be the chief guest.
On August 11, the Dalai Lama will speak on 'Courage and compassion in the 21st century' at a gathering of young professionals and students. On August 12, he will speak on 'Indian wisdom in the modern world'. Both the events will be conducted at the Conrad Hotel and will start at 9.30 am.
On August 13, he will travel to the Ramanagaram district to deliver a public talk at The Dalai Lama Institute for Higher Education at Sheshagrihalli Hejjala Post at 9 am.