India is standing on the precipice of change. In the last few years, the country has witnessed a tectonic shift in the geo-political landscape. But, will it be able to sustain its growth in this financially progressive and technologically driven environment? Alchemy 2017, the Annual Management Conclave of SIBM Bengaluru addressed this burning issue. The event witnessed highly esteemed speakers from various sectors of the industry participating in panel discussions and giving keynote speeches, that centred around the theme for the year, 'VivartanamBharate', translating into transforming India.
The first panel, 'Technological Singularity', focussed on the impact of automation and artificial intelligence on the future of the country. Mr. Rohit Kumar Pandey, co-founder and CEO of SigTuple said, "AI will act as an enabler that will serve to improve the efficiency of doctors."
"Important thing to address is, does AI help me drive my sales growth?" said Mr. Padmanabhan Babu, MD and CEO of LogiLink, India.
"Before using AI, we need to understand the domain of that industry", said Mr. Bhupendra Bhate, CDO, L&T Technology Services.
Mr. Naveen Yeri, head of consumer risk advanced analytics at Wells Fargo spoke about the grassroots levels adapting AI for it to be successful, he said, "Middle management will first have to adapt for AI to be incorporated in the banking sector."
"Adaptability is the next new thing"- Mr. SambathMargabandhu, Vice President at Polaris Consulting and Services Ltd. also stressed on the importance of adaptability in bringing about transformation.
The second panel, 'Bankable India?' addressed the role that Financial Inclusion will play in capitalizing the demographic dividend and including businesses previously unaccounted for.
"Digital and Financial Inclusion go hand in hand.", said Dr.Susheela Venkataraman, former Technology Head at Asian Development Bank.
"Financial Inclusion has to be profitable to be viable and not from charity or CSR activities." Said Mr. TamalBandyopadhay, Consulting Editor of Mint.
The day concluded on a high note with Mr. Rajat Jain, executive chairman of Neva garments, one of the keynote speakers for the day, saying that "Innovation is the key to survive."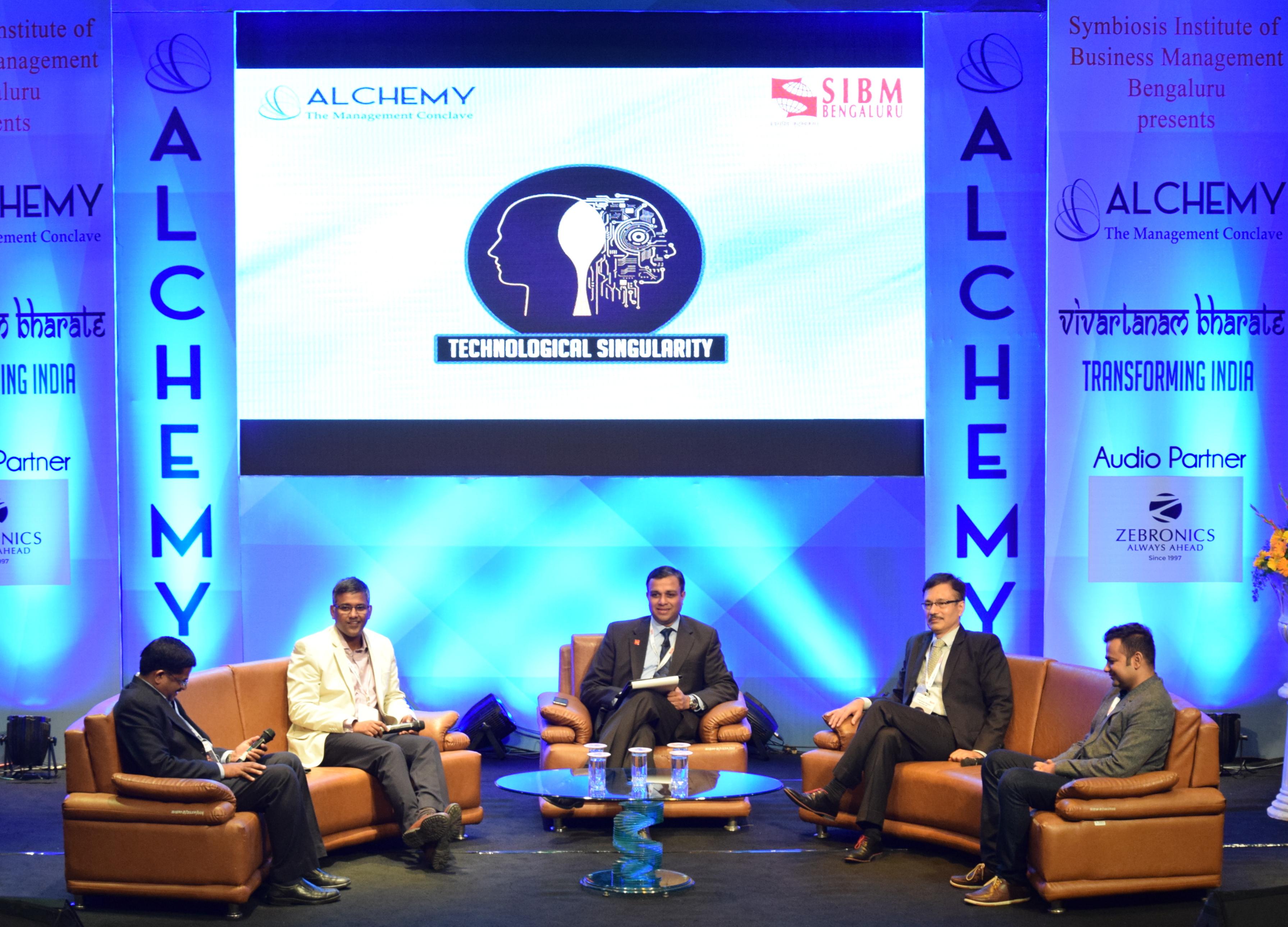 About SIBM Bengaluru:
Ever since its inception in 1978, SYMBIOSIS has been synonymous with progress. The trend of progress has been continued by setting up of SIU's first campus outside Maharashtra at Bengaluru in 2008. SIBM Bengaluru is now one of the leading B-Schools of the country. The focus, now, is on matching global standards of management education. SIBMB instills a work culture which is unparalleled among various institutions. It provides a holistic approach to management which goes a long way in creating a dynamic identity. Vibrant student associations and committees complement the program with a number of activities involving institute-industry interaction.
For additional information on subject of this release, please feel free to contact:
Leona Jennifer                       Ankita Chauhan
+91-9600037833                      +91-9983714327
http://www.sibmbengaluru.edu.in/
SIBM Bengaluru, #95/1, #95/2, Electronics City, Phase-1, Hosur Road, Bengaluru – 560100.