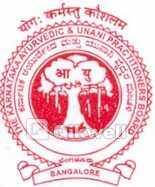 Bengaluru: The Karnataka State Ayush Associations' Joint Action Committee has demanded a CBI probe into the widespread corruption in Karnataka State Ayurvedic and Unani Practitioners' Board (KAUPB) and sought immediate transfer of board's registrar Dr Thimmappa Shettigar. Addressing a press conference in Bengaluru on Wednesday, the committee members alleged that the KAUPB was formed to protect the interest of the Ayurveda and Unani practitioners but was instead acting against the doctors and ending up harassing and embarrassing them.
Corrupt practices
Speaking at the press conference, National Integrated Medical Association (NIMA) Karnataka chapter president Dr Bhusanurmath said, "The KAUPB registrar Dr Thimmappa Shettigar was involved in corrupt practices and refused to vacate the registrar's post despite being transferred on April 21. An FIR has been lodged against Dr Shettigar in Bhadravati police station for his involvement in the death of District Ayush officer Dr Mohammed Hussain. Yet, no action is taken against Dr Shettigar so far. Though he has been transferred from his post, he has been clinging to his seat and not allowing his incumbent to take over. He is also using all the political influence to stall his transfer. We request the Chief Minister Siddaramaiah and Health Minister UT Khader to immediately shift him out of the Board and initiate action. If the government fails to take action, then we will be forced to organise mass protests across the state. We also demand the State Government to immediately hand over the corruption scandal in KAUPB to CBI for a fair enquiry."
No action against fake doctors
NIMA's ex-All-India president Dr KC Ballal said, "Dr Shettigar has been at the helm of affairs at KAUPB for the last five years. He is not only holding all the administrative control but also acting with a personal vendetta. He has been directly accused in the death of honest Shivamogga District Ayush Officer Dr Mohammed Hussain. Hence, he should be immediately transferred. Despite complaints related to the fake doctors, Dr Shettigar failed to take any action yet he never left a chance to harass the honest doctors with a personal vendetta. Dr Shettigar is also treating registered medical practitioners as criminals and termed them as 'mafia' for demanding a fair enquiry into the death of District Health Officer Dr Mohammed Hussain. His language is unbecoming of a registrar's post. Dr Shettigar is also not following the decisions of KAUPB and instead implementing according to his whims and fancies."
State-wide protest if Dr Shettigar is not removed
Akhila Karnataka Ayurvedic Medical Association president Dr Bharadwaj said, "In March 2016, Dr Shettigar pressurised Dr Mohammed Hussain to file a police complaint against registered medical practitioners under false charges. When Dr Hussain refused to do so citing government regulations that the a complaint cannot be filed in the police station and can be done only at a magistrate court (as per KAUPB rules and regulations, section 40), Dr Shettigar forced Dr Hussain to do so at the police station itself. Under severe pressure, Dr Hussain collapsed and died at Bhadravati police station immediately. We wonder why did Dr Shettigar pressurise Dr Hussain so much? A case has been filed in Bhadravati police station against Dr Shettigar and three others for their involvement in the death of Dr Hussain. Even during so called raids, Dr Shettigar choreographs the raids in such a way to gain maximum media coverage for himself and showing the doctors in poor light. While Dr Shettigar is not taking any action against thousands of fake doctors, he is constantly targetting the registered and authorised post-graduate Ayush doctors."
Remove Dr Shettigar from registrar's post
The Association members said that they have brought the whole issue to the notice of Health Minister UT Khader who initially didn't take action but later formed a committee which found Dr Shettigar guilty of corrupt practices. Subsequently, on April 21, Dr Shettigar was transferred from the post. However, he refused to move out of his job and never allowed his incumbent to take over. He is also now producing a letter by the Chief Minister Siddaramaiah saying that he has got the sanction to continue in the post. "We wonder why the politicians are promoting this corrupt officer who is harassing thousands of doctors in the state. We demand his immediate ouster from the job failing which we will be forced to launch a state-wide agitation against him and the corrupt practices, "Dr Bhusanurmath demanded. The association, with the help of media, request the State Government to immediately interfere in the issue and provide justice to thousands of doctors.