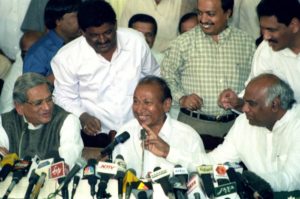 A local court in Gobichettipalayam in Tamil Nadu on Tuesday acquitted all nine accused in the sensational abduction case of Kannada matinee idol Dr Rajkumar by forest brigand Veerappan in July 2000.
Additional district judge K Mani, while acquitting all the nine accused, tore into the prosecution for not presenting a watertight case.
The judge also criticised Dr Rajkumar's family for not coming forward to file a complaint against the people who abducted the Kannada icon.
The judge also said the prosecution failed to provide even an iota of evidence to prove that the accused were connected to Veerappan and his aide Sethukuzhi Govinda.
IANS