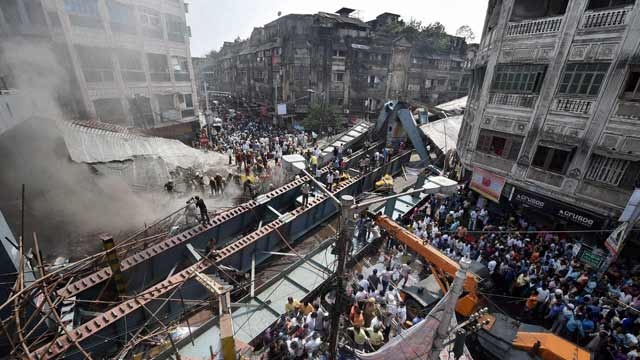 Kolkata: At least eight persons were killed when a portion of an under-construction flyover collapsed today in busy north Kolkata, leaving scores of others trapped under the debris.
Police sources said that eight persons were killed in the incident, while several others were injured. The death toll could go up, they said.
Several injured persons were rescued from under the debris and were being sent to different hospitals in the vicinity.
"Two persons were brought dead and two others were in serious condition," Kolkata Medical College and Hospital superintendent Sikha Banerjee said.
"More injured persons are still being brought in to the hospital," Banerjee said.
Cutting short her visit to West Midnapore district, Chief Minister Mamata Banerjee, who was campaigning there, rushed back to the city and visited the site and directed the authorities to speed up the relief and rescue operations carried out by police, fire brigade and disaster management personnel.
Several passenger vehicles, including a bus, were trapped under the debris, as operations were on to clear the rubble and bring out those trapped under.
Huge cranes and other rescue vehicles were pressed into service to clear the debris and bring out the injured.
A PTI correspondent who was at the accident site, saw a number of severely injured persons lying in a pool of blood.
At least a few persons were seen trapped under vehicles, concrete and heavy steel girders.
The incident took place at around noon at the busy Rabindra Sarani-K K Tagore Street crossing near Burrabazar, the trading hub and one of the most congested areas in the city.
A number of hawkers operate under the flyover which is also used for parking several vehicles.
NDRF personnel were also rushed to the site to to assist in the rescue operations.
(PTI)