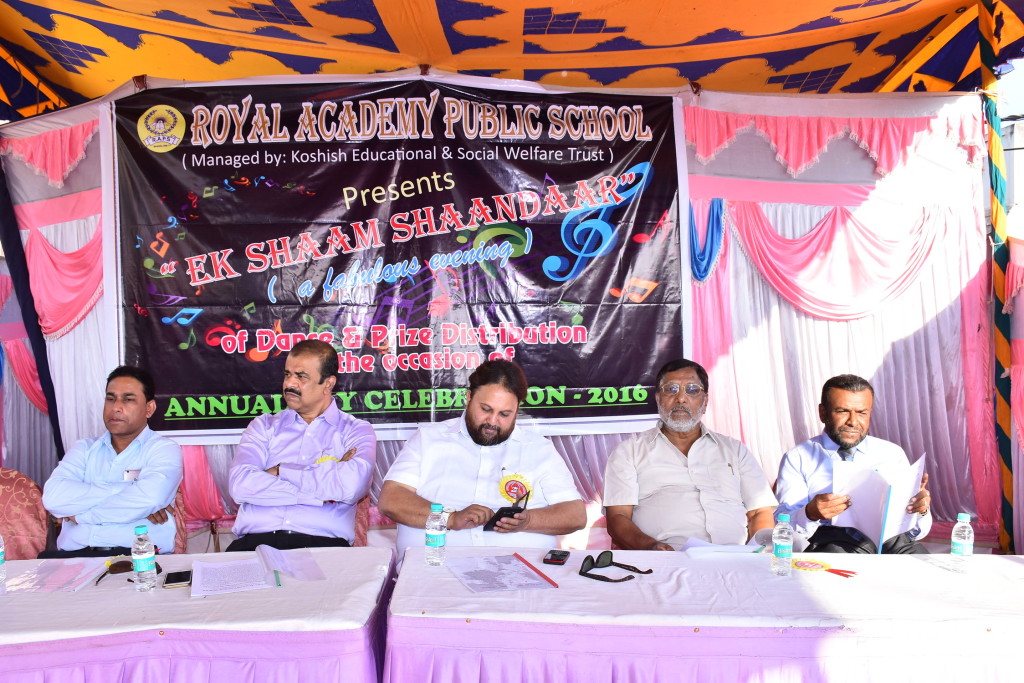 "Royal Academy Public School, Thanisandra, North Bengaluru, organised 'EK SHAAM SHAANDAAR" dance & prize distribution program on its 7th Anniversary Celebration on 5th March 2016.
The dignatories who attended as Chief Guests & Guests of Honour include – Mr. Rizwan Asad, Editor in Chief of Nasheman Urdu Weekly Newspaper, Mr. Palani Venkatesh, husband of Thanisandra Ward Corporator Mrs Mamatha, Mr. Naveed Ahmed Khan, Joint Secretary of Muslim Orphanage, Mr. Hidayathulla Kuvenda, Advocate & Proprietor of Adlaw Partners, Mr. Nisar Ahmed, Secretary of Soniya English School, Mr. Amjad Khan, Rector of Muslim Orphanage, Mr. Narasimha Narasimhaiah, Vice President of Karnataka Rajya Sena. Mr. Hamzathulla Kuvenda, Chief Editor of Kittalenadu Kannada Weekly Newspaper presided over the function.
The respectful guests lauded the performance of the school and blessed one and all. Mr. Syed Muneer, Secretary of the School facilitated the hon'ble guests & gave vote of thank. School children performed dance & drama and the guests distributed prizes to the winners on the occasion. Mehfoza, a 4th Std student of Delhi Public school picked lucky chits in which many parents got prizes in a lucky draw organised on the occasion. The program was successfully concluded with super hit qawwali.