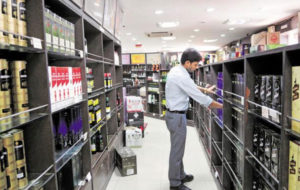 With the idea of filling the government exchequer, which is hit by the farm loan waiver scheme, the state government decided to issue permissions to 1,000 new liquor shops across the state. These new liquor shops will come up according to the population density.
According to a circular issued by the commissioner of Excise department, department officers are instructed to carry out a survey across the state to identify villages/ towns/ wards where the new liquor shops can be permitted. Based on the demand and the population density, officials are asked to send proposals to the state government.
"The state exchequer is virtually empty now following the implementation of the farm loan waiver scheme. Now the state government is planning to fill the exchequer by all means. One of the ways of increasing revenue is to increase the number of liquor shops," said an officer from the excise department who is privy to the developments.
PTI