Minister makes announcement on personal blog as European creditors scramble to respond to "No" vote in debt referendum.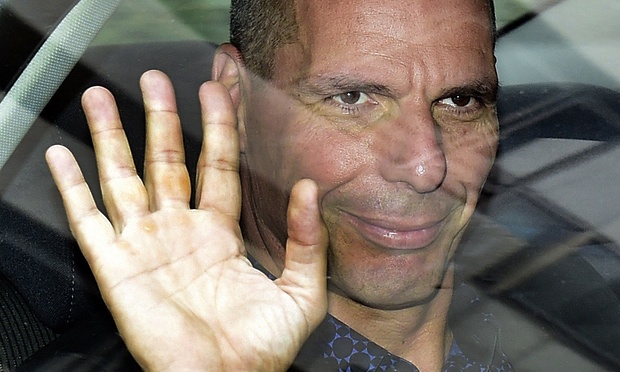 by Al Jazeera
Greek Finance Minister Yanis Varoufakis has resigned after Greek voters delivered an overwhelming "No" vote in a referendum on whether to accept more austerity measures in return for new bailout cash.
In a statement published on his personal blog on Monday, Varoufakis said he was stepping down to allow Greek Prime Minister Alexis Tsipras to reach a new deal with European creditors.
"Soon after the announcement of the referendum results, I was made aware of a certain preference by some Eurogroup participants, and assorted 'partners', for my … 'absence' from its meetings; an idea that the Prime Minister judged to be potentially helpful to him in reaching an agreement," Varoufakis wrote on his blog.
"For this reason I am leaving the Ministry of Finance today.
"I consider it my duty to help Alexis Tsipras exploit, as he sees fit, the capital that the Greek people granted us through yesterday's referendum. And I shall wear the creditors' loathing with pride."
Al Jazeera's John Psaropoulos, reporting from Athens, said the decision to step down was expected and not a surprise.
"Many times since he took office in January he's said that he's not in it for the long haul, he said that he's not a politician, he's a technocrat, an academic," Psaropoulos said.
EU leaders to meet
The announcement came as European Union leaders scrambled for a response on Monday, following the overwhelming "No" vote in Sunday's referendum.
German Chancellor Angela Merkel and French President Francois Hollande were expected to meet in Paris on Monday, after calling for an emergency eurozone summit in a phone conversation after the result of the vote became apparent on Sunday.
EU President Donald Tusk said that the summit would be held on Tuesday, according to the AFP news agency.
European Commission President Jean-Claude Juncker – who had said a Greek "No" would be "no to Europe" was expected to speak to the European Central Bank (ECB) and eurozone finance ministers on Monday.
Martin Schulz, the president of the European parliament, told Al Jazeera that the "No" vote had created a difficult situation, but the will of the Greek people must be respected.
"Ordinary citizens, pensioners, sick people and children in kindergarten should not pay a price for the dramatic situation … therefore, a humanitarian programme is needed immediately," Schulz said.
"I hope that the Greek government will, in the next few hours, make meaningful and constructive proposals, allowing that they are meaningful and possible to renegotiate. If not, we are entering into a very difficult and even dramatic time."
Greek voters overwhelmingly rejected international creditors' tough bailout terms, sparking fears that the cash-strapped nation was on its way out of the euro.
Voters had been asked on Sunday whether to accept or reject the country's multibillion euro bailout deal with the EU that called for more austerity in exchange for rescue loans.
Figures released by the interior ministry showed the final tally at 61.31 percent voting "No" and 38.69 percent voting "Yes". Participation stood at 62.5 percent.
Thousands of pro-government supporters cheered and hugged each other in central Athens in celebration, although some other Greeks expressed pessimism that Tsipras would be able to deliver on his promises.
In a televised address after the referendum, Tsipras said the creditors – the ECB, the European Commission and the International Monetary Fund – would now finally have to talk about restructuring the massive, 240-billion-euro ($267bn) debt Greece owes them.
"This time, the debt will be on the negotiating table," he said, insisting that an IMF report seen this week "confirms Greek views that restructuring the debt is necessary".
Tsipras said that the referendum results did not mean Athens was headed for a so-called Grexit.
"This is not a mandate of rupture with Europe, but a mandate that bolsters our negotiating strength to achieve a viable deal," he said.
Even in the most difficult circumstances, #democracy can't be blackmailed—it is a dominant value and the way forward. #Greece #Greferendum

— Alexis Tsipras (@tsipras_eu) July 5, 2015
The ruling Syriza government closed the country's banks and imposed capital controls until July 6 to stem the flood of withdrawals after the bailout deal failed.
The cash-strapped nation eventually defaulted on an IMF payment of $1.8bn on June 30. The same day, the last bailout for Greece ran out, despite Tsipras' appeals for it to be extended until the referendum was over.
Al Jazeera's Barnaby Phillips, reporting from Athens, said the result shows a "much better" outcome for Tsipras and could embolden the prime minister to go back to Europe and demand a better deal for Greece.