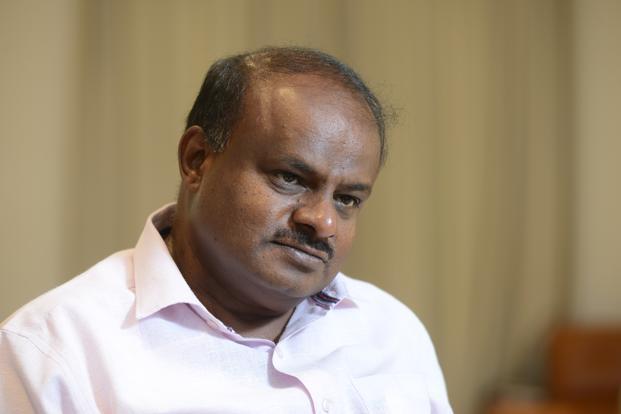 HD Kumaraswamy is in the habit of fighting since his school days as many of his classmates still remember in a jovial way.The incident happened while he was in the 7th standard.In another incident a Principal chased him on his motorbike as the then college student Kumaraswamy was fleeing after biting a lady lecturer for having caught him copying!
He's in the habit of a fighting mood aspiring for leadership during his school days also,recollects Krishnakumar of Hassan.He's the classmate of HDK.
The year happened to be 1973-74 and HDK was studying in the 7th standard at the Government Middle School in Holenarasipur town.Then he wished to become a monitor of the class.However another student was also eyeing on the 'position'.So HDK's arguments with him reached a stage where both of them were above to indulge in fisticuffs.However late Basavaraju,Sevadal teacher admonished them and prevented a scuffle underway…
…Yet HD Kumaraswamy managed to become monitor of the class,recalls Krishnakumar. He's sitting in the same bench along with HDK and still remember those good old days when the latter used to come to school carrying school books in a aluminium box.
HD Kumaraswamy completed his primary education at Holenarasipur and joined the St.Joseph's High School on Salagame road at Hassan for high school education.Many of his old classmates have settled down in Hassan and Holenarasipur and still enjoy the close proximity with him.
Many still have the friendly relations to such an extent that they prefer to call him by his name.It's also by and large the same sort of affection being extended by Kumaraswamy,say his old classmates.He continues to remember and cherish the old days and rejoices remembering his pals and teachers.
In another incident Kumaraswamy was caught red handed copying while being in the degree college by a lady lecturer.He immediately bit her hand and started running.The incident came to the notice of Dr Rajagopalacharya who was principal of the college for 18 years from 1972 on wards.He immediately started his motorcycle and started chasing him.
He also succeeded in catching hold of him physically and took him to the police station where the principal was reprimanded by the police officer.He's worried as to what would have happened to him if at all the student had also carried a knife with him!
After the incident HD Devegowda insisted that his son's transfer certificate be issued.But Rajagopalacharya was stubborn enough in not letting it till Kumaraswamy completed the three years degree.He also remembers that Kumaraswamy had inquired about him after becoming the chief minister.
Hindusthan Samachar/Manohar Yadavatti