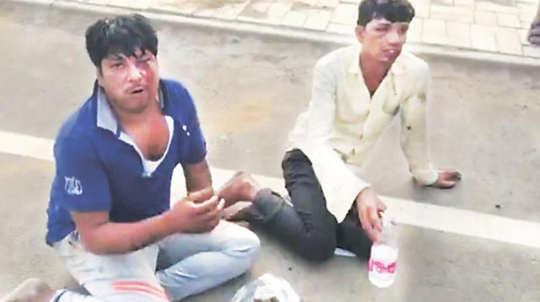 New Delhi: A video has emerged showing a group of Hindutva extremists forcing two Muslims youths to eat cow dung and drink cow urine for allegedly transporting beef over a fortnight ago.
Gurgaon Gau Rakshak Dal, an extremist group, infamous for spreading communal hatred in BJP-ruled Haryana and neighbouring states, has openly claimed responsibility for this heinous act. However, the police have arrested the victims instead of the members of the extremist group.
Admitting that they had forced the two men — Rizwan and Mukhtiar — to eat "panchgavya" (concoction of cow dung, cow urine, milk, curd and ghee), Dharmendra Yadav, president of the Dal, said: "We taught them a lesson and purified them too."
Yadav claimed that on June 10 activists of his group, acting on a tip-off, intercepted a vehicle transporting "700 kg of beef from Mewat to Delhi" on the Kundli-Manesar-Palwal (KMP) Expressway. He said that his group chased the car for 7 kilometres before stopping it near the Badarpur border.
In the video, the two men can be seen sitting on the road, with the 'panchgavya' before them, attempting to wash it down their throats with water. Meanwhile, the miscreants are seen threatening and forcing the duo to consume the concoction. They are also forced to chant 'Gau Mata ki Jai' and 'Jai Shri Ram' as they swallow the mixture.
Towards the end of the 57-second video, the men begin to throw up on the roadside. The video comes to an abrupt end when a man is heard saying "turn off the video".
However, Yadav claimed that he did not know who had shot the video. The Gau Raksha Dal reportedly handed over the two men to the police following the incident.
Anil Kumar, Station House Officer (SHO) of Sarai Khwaja police station, said that the two men (the victims) had been arrested on June 10. He said the meat in the car was confirmed to be beef.
Faridabad police PRO Sube Singh said that the Gau Raksha Dal had caught two men transporting 300 kg beef in an Accent car bearing a Delhi registration number. He said the case had been handed over to the Faridabad police because of the jurisdiction of crime. The duo have been booked under the Prohibition of Cow Slaughter Act. Later, they were sent to judicial custody.
The beef has been destroyed, said the PRO. However, he claimed the police had no knowledge of any video that had been shot forcing the duo to eat cow dung.
The Gau Raksha Dal is infamous for its attacks on trucks and other vehicles in Haryana and Punjab allegedly carrying or transporting beef. The Dal has posted videos online proudly showing off its attacks. In a typical video, those driving the trucks are dragged out and brutally beaten even as the police watch helplessly.
(Agencies)