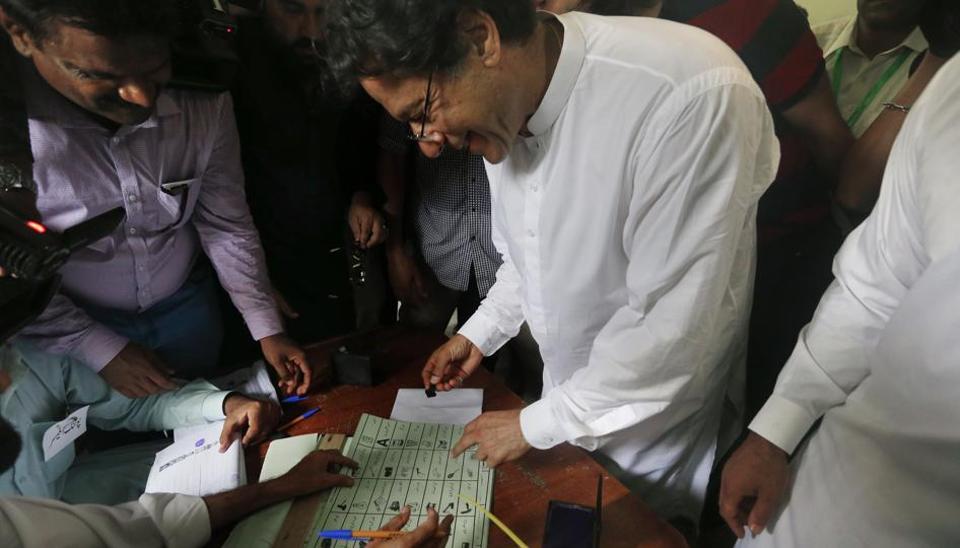 Imran Khan's vote may be canceled for violating electoral rules, reports said on Wednesday, as his Pakistan Tehreek-e-Insaf (PTI) party denied the charge and said the country's poll body failed to prevent the spread of unverified reports.
Pakistani television channel Express News reported Khan was captured on video while exercising his franchise in violation of the Election Commission of Pakistan's "secrecy of ballot" code.
According to the Pakistani media, the commission has taken notice of the event during the violence-marred general election that has cricket hero Khan pitted against the party of jailed former prime minister Nawaz Sharif. At least 29 people have died in attacks across the country.
Dawn.com reported the election commission has forwarded the matter to the chief election commissioner for consideration and a notice will be sent to Khan after that. A video of the PTI chief casting his vote has also been sent to the election body, it added.
The punishment for failing to maintain secrecy while voting is six months jail and a fine of Rs 1,000 under section 185 of the Election Act, 2017.
The PTI said its chairperson Khan did not violate any election rules and also criticised the commission for not curtailing the spread of unverified media reports.
"Taking notice against a particular party's leader may present an unbalanced view and compromise the elections," the party said.
According to the latest opinion polls, neither Khan nor Sharif are likely to win a clear majority in the election.
Khan has emerged as a slight favorite in national opinion polls, but the divisive race is likely to come down to Punjab, the country's most populous province, where Sharif's party has clung to its lead in recent surveys.
The election has been plagued by allegations the powerful armed forces have been trying to tilt the race in Khan's favour after falling out with the outgoing ruling party of Sharif, who was jailed on corruption charges this month.
Khan has staunchly denied allegations by Sharif's Pakistan Muslim League-Nawaz (PML-N) party that he is getting help from the military, which has ruled Pakistan for about half of its history and still sets key security and foreign policy in the nuclear-armed nation.
The army has also dismissed allegations of meddling in the election.
About 106 million people are registered to vote in polls due to close at 6 pm (1300 GMT). The likely winner should be known by around 2 am on Thursday.