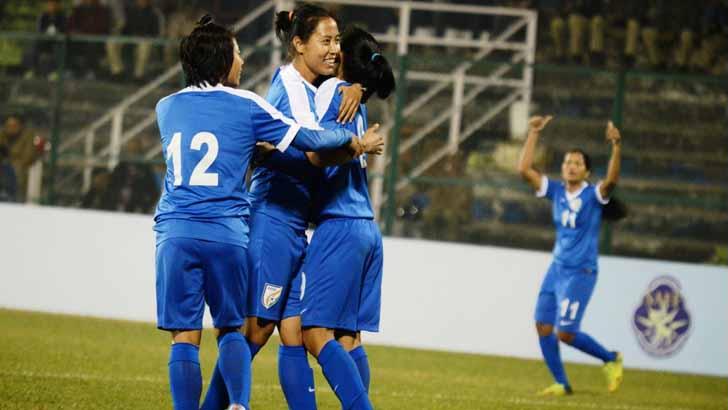 India Under-15 womens team scored five goals in each half to thrash Nepal 10-0 in a one-sided group encounter of the SAFF Womens Championship at Dhaka on Tuesday.
Hat-tricks by Priyanka Devi and Sunita Munda was complimented by a brace from Lynda Kom, with goals from Santhiya and Anay Bayi completing the rout.
Lynda Kom had opened the scoring in the fourth minute as India went on to pile the pressure on their northern neighbours.
But the scoreline didn't reflect the dominance until Lynda opened the floodgate with her second strike in the 32nd minute.
The later stage of the first half saw three more goals being pumped into the Nepal net as Sunita Munda, Santhiya and Priyanka Devi etched their names on the scoresheet with goals in the 33rd, 40th and 43rd minute respectively.
Nepal had a chance of their own but they missed their penalty opportunity as the teams went 5-0 into half time.
Contrary to expectations India didn't let the foot off the pedal in the second half as Priyanka got her second of the day in 53rd minute before Sunita too did same in the 62nd minute.
Anay Bayi became the fifth Indian on the scoresheet with her strike in 69th minute as the Nepali shoulders dropped and India strolled around with the ball.
After few attempts, Priyanka finally scored again in the 76th minute to complete her hattrick before Sunita rounded off the scoreline with her own three-peat in the 86th minute.
India will now face Bangladesh on December 21 in their final group encounter.
(IANS)