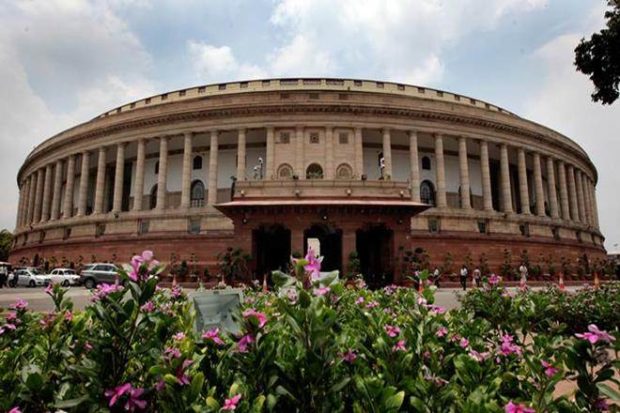 A bill to amend the Insolvency and Bankruptcy Code, 2016, allowing an allottee of a real estate project to be treated as a financial creditor was introduced in the Lok Sabha on Monday, amid allegations from opposition parties that some changes were intended to "help just one industry".
The Insolvency and Bankruptcy Code (Second Amendment) Bill, 2018 was introduced by interim Finance Minister Piyush Goyal and seeks to replace an ordinance brought by the government earlier this year.
Taking part in the debate, Biju Janata Dal (BJD) member Bhartruhari Mahtab said he is opposed to the move to amend Section 33 of the Code to provide a reduced threshold from 75 per cent of voting share for obtaining the approval of the Committee of Creditors for making an application to the adjudicating authority to pass a liquidation order.
"That is the reason why I say that this is nothing but a fixed match. Bad loan resolution is becoming deep-rooted nexus between the bankers, auditors and promoters, which is undermining serious recovery," he said.
He was supported by some other opposition members as well.
Citing the resolution process of a textile company, Mahtab said two companies had jointly submitted before the Committee of Creditors (CoC) of the textile firm to acquire the company last April but the CoC failed to gather enough votes to act on the resolution plan.
"And here the crux of the problem lies. The proposal got 70 per cent of the votes when 75 per cent were needed. The government stepped in and an ordinance amending the IBC lowered the minimum vote needed for passing a resolution plan to 66 per cent from 75 per cent," he said.
Mahtab said the government "should stand up and do away with this type of crony capitalism".
Rejecting the allegations, Goyal said these are "baseless" and the amendments will have prospective effect.
He said that when the Insolvency and Bankruptcy Code was introduced, the country's banking sector was going through a serious crisis "because of indiscriminate and absolutely baseless lending" that happened during the period 2008 to 2014.
The Minister said the banking system gave money to promoters who had no business to get loans in the first place.
He said the cases being referred to "were also loans, which were given during that period and then subsequently restructured … because of which the banking system was in dire straits."
Goyal said the laws to recover loans were weak and banks were unable to take back money from "big people", so notices were sent to others.
"No property of factory of big people were seized… The entire responsibility is of Congress," he said.
He said the amendments had been brought on the recommendations of a committee.