Tehran agrees to curb its nuclear programme in exchange for sanctions relief after lengthy negotiations.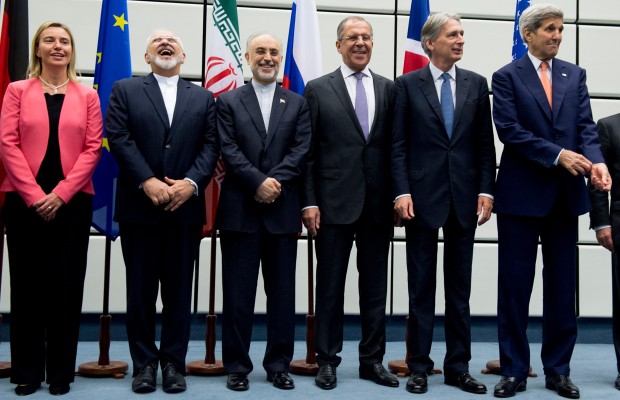 by Al Jazeera
World powers and Iran have reached a landmark deal to curb Islamic Republic's nuclear programme in exchange for sanctions relief after an 18-day marathon negotiations in Vienna.
The accord was announced on Tuesday by Iranian Foreign Minister Mohammad Javad Zarif and the European Union's policy chief Federica Mogherini in a joint statement in the Austrian capital.
Iranian Foreign Minister Mohammad Javad Zarif called the deal a "win-win" solution to end "an unnecessary crisis and open new horizons for dealing with serious problems that affect our international community."
"I believe this is a historic moment. We are reaching an agreement that is not perfect for everybody but it is what we could accomplish and it is an important achievement for all of us," said Zarif.
"Today could have been the end of hope on this issue, but now we are starting a new chapter of hope."
Mogherini said the decision demonstrated that "diplomacy, coordination, cooperation can overcome decades of tensions and confrontations".
"It is a decision that openned a way to a new chapter in international relations," she said.
Al Jazeera's James Bays, reporting from Vienna, said that for the presidents of the United States and Iran "it is a historic deal that would serve some kind of a re-set after decades of mistrust."
Hassan Rouhani, the president of Iran, commented on the deal on Twitter:
#IranDeal shows constructive engagement works. With this unnecessary crisis resolved, new horizons emerge with a focus on shared challenges.

— Hassan Rouhani (@HassanRouhani) July 14, 2015
Addressing the Iranian nation, Rouhani said: "We didn't ask for charity. We asked for fair, just and win-win negotiations."
He said that "a new chapter has started" and now the government could now focus on other issues of the country.
Barack Obama, the US president, said the American people and legislators should "consider the world without this deal" before making their mind about it.
"I will veto any vote taken against this deal," he said. "Simply no deal means a greater chance of more war in the Middle East. Our security depends on preventing Iran from obtaining nuclear weapons."
"This deal is not built on trust. It is built on verification," said Obama.
Meanwhile, Benjamin Netanyahu, the prime minister of Israel, who sees major threat in the deal called the decision "a historic mistake for the world".
"Iran will get hundreds of billions of dollars with which it will be able to fuel its terror machine," he said, referring to the expected lifting of crippling Western sanctions on its oil and banking sectors.
The accord seeks to end nearly 12 years of nuclear stand off between Iran and the western powers led by the US.
The accord will keep Iran from producing enough material for a nuclear weapon for at least 10 years and impose new provisions for inspections of Iranian facilities, including military sites.
Iran was resisting the probe in the country's alleged work on nuclear weapons and demanding that a United Nations arms embargo to be lifted.
It also demanded that any UN Security Council resolution approving the broader deal no longer describe Iran's nuclear activities as illegal.
Major powers accused Islamic Republic of seeking to build nuclear weapons, an aim it denied, under the guise of a civilian programme.
Iran will slash by abour two-thirds the number of centrifuges from about 19,000 to 6,104 under the deal announced on Tuesday.
A total of 1,044 of these centrifuges will be used for other purposes than uranium enrichment.