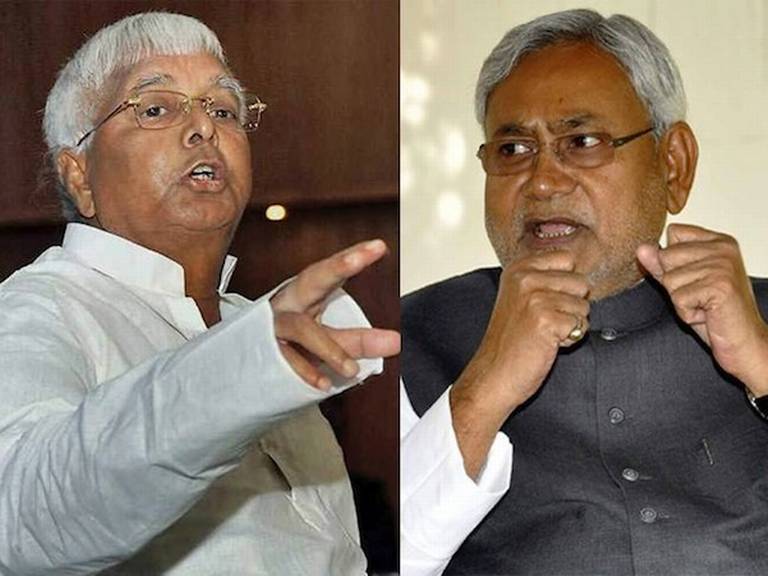 Patna: Displaying a picture of unity, JD(U), RJD and Congress today announced formation of a grand secular alliance and seat sharing among the three parties for the coming Bihar elections.
Chief Minister Nitish Kumar announced coming into being of the grand secular alliance and seat sharing among the three parties in presence of RJD President Lalu Prasad and Congress General Secretary and in-charge of Bihar affairs C P Joshi at a joint press conference.
As part of the tie-up, JD(U) and RJD would contest 100 seats each while Congress would fight in 40 seats. In the 243-member Bihar Assembly, the alliance was yet to announce who would contest in the rest three seats.
Nitish Kumar told reporters that the Nationalist Congress Party (NCP) has been with them in the recent election for Legislative Council 24 seats and they would like it to be with them in the Bihar poll. Kumar indicated the three seats would be given to Sharad Pawar's NCP if they join the combine.
In reply to a question that Samajwadi Party whose leader Mulayam Singh Yadav is heading Janata Parivar, had not got any seat, Prasad answered "he is my Samdhi (relative) and if need be I will accommodate him."
Kumar said the grand secular alliance would have a Common Minimum Programme and all constituents would hold joint campaign for the crucial state election in September-October. "The first rally of the grand secular alliance would be held in Patna on August 30," Kumar and Lalu Prasad said.
The RJD President indicated that the decision to fight on 100 seats only was a compromise for a cause.
"Inspite of all difference his party has come to the conclusion that to keep the communal and fascist forces away, it has to move ahead by accommodating others," Prasad told reporters.
Congress General Secretary and former Union minister C P Joshi said his party has entered the secular alliance as a constituent because it thinks "today Prime Minister Narendra Modi is the biggest threat to the country."
Asked if Congress President Sonia Gandhi or Vice President Rahul Gandhi would be present during August 30 rally or in future programme of the alliance, Joshi was evasive.
"These are part of strategy which we will let the media know through separate press conference later on," Joshi accompanied by state Congress President Ashok Choudhary said.
With secular alliance facing several doubtful questions on possibility of return of 'jungle raj' (euphemism to describe RJD's 15 year rule marked by bad law and order), Prasad volunteered to answer majority of the uncomfortable questions all the while taking potshots at BJP.
All the three constituents of the grand secular alliance have scaled down from the number of seats they had contested in last Bihar election in 2010, though not together.
JD(U), which was in alliance with BJP in 2010 poll, had contested on 141 seats and won 115. BJP, which had contested in 102 seats with Nitish Kumar, had cornered 91 seats.
RJD had fielded candidates in 168 seats and managed to win only 22. Congress had gone in the 2010 poll alone and could win only four seats.
In 2014 Parliamentary election, RJD, Congress and NCP had contested together and managed to win seven seats together out of a total of 40 seats. JD(U) which had gone in general election with Left parties was decimated and managed to win only two seats.
Congress president Sonia Gandhi and Vice President Rahul Gandhi have been reluctant to share dais in the last Parliamentary elections with Lalu Prasad, who has been convicted by a Ranchi CBI Court in a fodder scam case and has been debarred to fight elections.
When grilled by the mediapersons as to why he was not answering whether Sonia Gandhi or Rahul Gandhi would share dais with other grand secular alliance leaders, Joshi reiterated that it was part of strategy of the party which would be announced later on.
With flash bulbs popping frequently, Prasad in a bid to silence BJP, said, "today they must have got answer to all the questions they have been posing to show cracks in his coming together with Nitish Kumar in a bid to confuse voters and scare away upper castes from us."
Taking a potshot at BJP, the RJD President said, "demolition of Babri mosque and Gujarat riots were examples of 'mangal raj' and when I gave voice to poor during RJD rule it is dubbed as 'jungle raj'."
He said a few "well wishers" of Nitish Kumar also posed to him every now and then about guarantee that 'jungle raj' would not return and how we two would remain together. "Those peoples are 'nadaan' (innocents). You will see how we will continue to bond together in future," Prasad said. "BJP is trying to spread doubts about us but they will not succeed. We are together and remain together," he said.
(PTI)