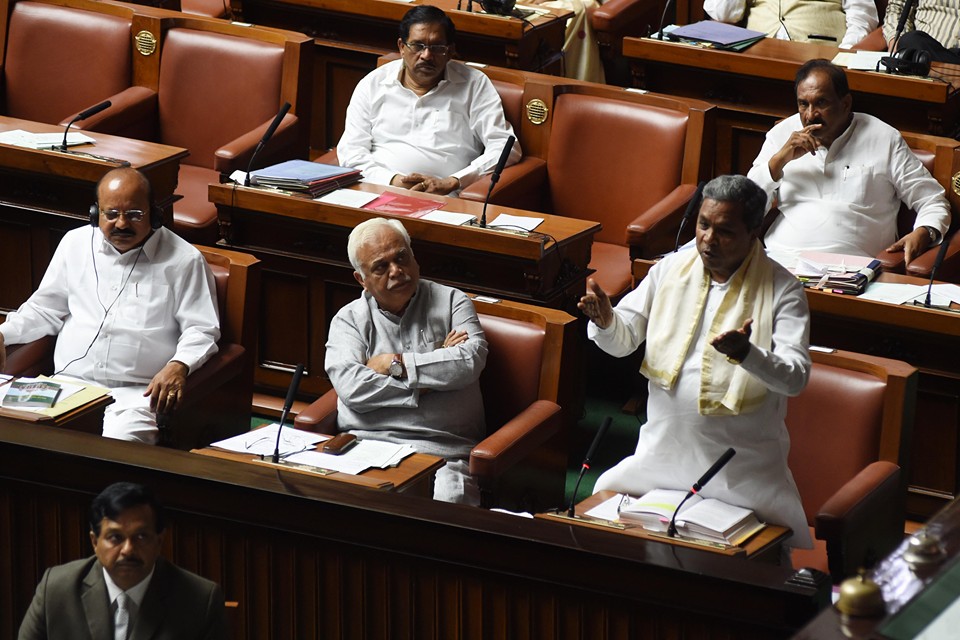 Bengaluru: Karnataka Legislative Assembly was today rocked by the controversy over a luxury watch gifted to Chief Minister Siddaramaiah, as the BJP pressed for an adjournment motion on the issue, triggering a war of words between the ruling and opposition sides.
As the issue was raised soon after obituary reference, Speaker Kagodu Thimmappa allowed Leader of Opposition and BJP leader Jagadish Shettar to make a preliminary submission to convince the chair to take up the issue as an adjournment motion, amidst resistance to it from the ruling Congress members.
In his submission, Shettar while calling the watch issue a matter of public interest accused Siddaramaiah of violating the code of conduct for ministers and Foreign Contribution Regulation Act (FCRA) and demanded discussion and response from the government on the issue.
After hearing the matter, the Speaker said it could notbe taken up as an adjournment motion and asked the opposition to discuss it during the motion of thanks to the Governor for his address.
Following this, BJP members entered the well of the House in protest, leading to adjournment for lunch. Defending himself, Siddaramaiah alleged that the Opposition was indulging in "character assassination". "I have already stated in public that I got the watch as gift in July from a Dubai-based NRI friend, by March I will declare about it in my IT returns. To Lokayukta I have to declare in June, I will be doing it. I have also said that I will deposit the watch to the state government," he said. "FCRA is not applicable to this case as the person who gifted it is not a foreign national, but an NRI," he added. Siddaramaiah has come under attack over his luxury diamond studded Hublot watch.
As the controversy erupted, he declared last week that the watch, claimed to be worth Rs 70 lakh, would be declared as state asset and handed over to the government. As Shettar questioned Siddaramaiah who claims himselfto be a "socialist" and "follower" of Ram Manohar Lohia for his conduct, Siddaramaiah in a rebuttal reminded BJP of Prime Minister Narendra Modi wearing a "Rs 10 lakh monogrammed suit".
When the House met after the lunch, BJP members continued with the protest by entering the well of the House demanding discussion on Siddaramaiah's watch issue. As Speaker's attempts to conduct the proceedings failed, he adjourned the House till tomorrow.
The controversy was stoked by JD(S) leader H DKumaraswamy after which the Chief Minister disclosed that the expensive watch was gifted to him by his close friend DrGirish Chandra Verma who visited India last July.
(PTI)